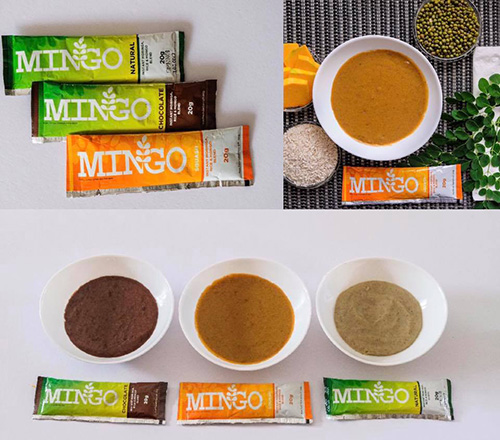 MINGO MEALS
Mingo is a nutritious instant complementary food made of rice, mongo (mung beans), and malunggay (moringa).
Each 20-gram sachet is about 80 calories and provides protein, fat, vitamins A, C, B1, B6, potassium, iron, calcium and zinc. It's mixed with water to make a porridge, soup, or drink. Some children also like it straight out of the pack!
Because of its convenience and nutritional value, Mingo has also gained popularity as emergency food in emergency relief operations and has been used to feed people in disaster or emergency situations in the Philippines.
It is also used for geriatric care and fed as porridge to older people who have a hard time chewing solid food and/or need added nutrition.
With the Food Nutrition and Research Institute of the Philippine Department of Science and Technology as its valued partner, NVC operates a facility licensed by the Food and Drug Administration to manufacture Mingo.
NOTE: There is no minimum order but note the shipping costs below.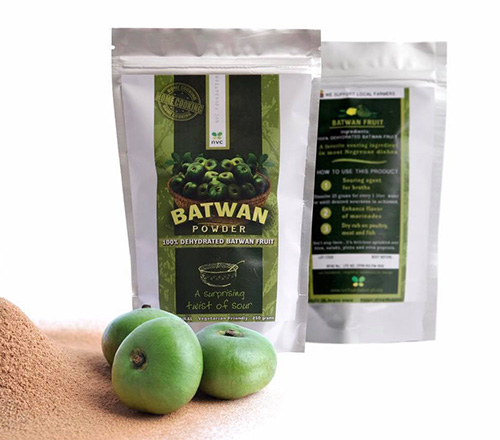 100% ALL-NATURAL BATWAN POWDER
Get a surprising twist of sour from the fruit called BATWAN. Dehydrated and powdered, it comes in handy pouches of 125-gram and 250-gram packs containing pure, 100% batwan without any additives or extenders.
Familiar to Negrenses and Ilonggos, batwan is loved by those who have discovered it as a handy natural ingredient for beloved dishes like kansi, kadios, and inasal. It also serves as a unique souring ingredient for broths (like sinigang or the Thai tom yum goong), sauces, salad dressings, marinades, and even drinks like smoothies and coolers!
This product was manufactured in NVC's Mingo plant. Your purchase helps NVC pursue its programs for disadvantaged children and their parents.
IMPORTANT NOTE:
DUE TO LIMITED SUPPLY, PLEASE LIMIT YOUR ORDER TO 10 PIECES OR LESS. WE CANNOT GUARANTEE WE WILL BE ABLE TO SHIP MORE THAN 10 PACKS AT A TIME. THANK YOU!
KEEP IN TOUCH WITH NVC
Join our mailing list to receive status reports, news, and volunteer opportunities from NVC. We keep our list private.