The Traditional University Awards
The Traditional University Awards of the Ateneo de Manila University recognize the life and works of men and women in society who exemplify the values of Ateneo de Manila University, and who have been transformative forces in society. One of these awards is the Parangal Lingkod ng Sambayanan (Public Service Award). This gives recognition to outstanding public service of an individual or organization. The Ateneo began giving this award in 1983 and its first recipient was Radyo Veritas. This year, Ateneo selected NVC Foundation as the recipient of this prestigious award.
We are humbled to have been honored by the Ateneo University alongside people whom we look up to. Other awardees for this year are multi-award-winning writer Lualhati Torres Bautista, Eva K. Galvey of the Emmaus Center, Doctor to the Barrios and former DOH Secretary Jaime Z. Galvez Tan MD, Edward S. Go of Metro Pacific, Nobel-Prize-winning journalist Maria Ressa, and former Vice President of the Philippines Atty. Leni Robredo.
The award of Edward S. Go was conferred posthumously in October 2021, Atty. Leni Robredo's award was conferred in July 2022 and Maria Ressa's award will be conferred in 2023. All other awards were conferred on the recipients on November 22, 2022 at the Ateneo de Manila University.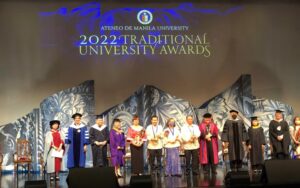 Millie Kilayko (5th from left), President of the Negrense Volunteers for Change (NVC) Foundation, received the award at Ateneo de Manila University on November 22, 2022.
Accepting with a Grateful Heart
A number of NVC Foundation members and supporters were lucky enough to attend the event in person. They documented the key moments to share with others.

NVC President Millie Kilayko and Fr. Roberto "Bobby" Yap, SJ, President of Ateneo de Manila University

Some NVC board members were present, from left to right: Charlie Yu, Therese Ng (NVC Vice President), Millie Kilayko and Patrick Pesengco
NVC Foundation President Millie Kilayko was accompanied on stage by Fr. Noli Blancaflor, a Bacolod-based secular priest with a Jesuit background who blesses all the work we do at NVC. After receiving the award, Ms. Kilayko delivered her acceptance speech (video on the left).
Below is the transcription of NVC Foundation President Milagros "Millie" L. Kilayko's response after receiving the award:
When Negrense Volunteers for Change Foundation was just a few years old, Typhoon Yolanda struck. One of our responses was to provide replacement boats to fishermen who lost theirs to this disaster. And one of our recipients was Rolando Pamplona from Palo, Leyte.
While the raging flood waters swept through his house, Rolando clung to his five children so they wouldn't break loose and be carried away. His wife, who had delivered their sixth child just the day before, brought the infant close to her chest. The force of water, however, was too strong for her weak body and when the horror was over the following day, Rolando found that his wife and baby were gone. He walked and walked through typhoon debris in search of his wife until he finally found her, several days later, in the form of a lifeless body falling from a payloader along with a lot of trash. He never found his baby.
After we turned over Rolando's boat, I remember that he set out to sea along with the other fishermen and their new boats, while the women and children were ushered to a truck that would take them back home. However, when I looked towards the shoreline, I saw one little girl standing so close to the water, her eyes set toward a boat in the distance, until it disappeared into the horizon. It was Rolando's two-year-old daughter, Maria Luisa. What must have been going on her mind that gave her such a worried look, I wondered. I am sure she feared that the same waters which swallowed her mother, may swallow her father –the only parent she had known for four months since the typhoon broke her family apart.
That was March 2014. Two and a half months later, classes resumed. Then I remembered Maria Luisa. I wondered who would be taking care of her when her father would be out at sea, while her older siblings would be in school. I called our Field Officer in Leyte and asked her to visit Rolando and family. "I'm scheduled to see them in the coming weekend," she said. But no, "Do it NOW," I said. Something in me pushed me to just tell her to do it immediately.
And so, she did. And when she got to the Pamplona home, a new one given to him by another NGO, she saw Rolando on his knees, crying like it was the end of the world, cupping little Maria Luisa's bewildered little face with his shaking hands. It turned out that Rolando's mother-in-law had come to take away his two youngest children to far away Butuan in Mindanao because she found it more practical to take care of them there.
I now have a new home, "Rolando wept. "I now have a new boat. But I lost my wife. I lost my baby. Now I am losing two more children.' Rolando was broken.
A year later, the devastating earthquake in Nepal happened. One of our Trustees suggested that we share the Nepal story with the fishermen beneficiaries so they would know that they were not alone in misery in the face of a natural disaster. One day, Rolando was among the listeners when our staff related the story of the Nepalese disaster to a group of fishermen. As the story ended, Rolando got up, a little hesitant, a bit timid, trying to muster the courage to speak. He pulled out P20 from his pocket, placed the bill in an empty bottle, and said, "This is my contribution to the people of Nepal."
After that, the other fishermen went forward with their own contributions. Rolando's example was followed by several thousand other fishermen beneficiaries until we finally received more than P100,000 in coins, folded and crumpled bills with little notes from the fishermen which said, "Hindi kayo nag-iisa" and the like.
I share Rolando's story this afternoon because Rolando is both a reflection of ourselves as NVC Foundation, as well as an inspiration to us who work for it.
How timid Rolando was when he got up to hand over his P20 bill – that was exactly how insecure and timid we would feel whenever we had to attend meetings with other foundations in our early days, when we had so little to give and had likewise given so little yet.
And Rolando's amazement at how his little act of care and courage blossomed into more money than he had ever seen in his life, is exactly how amazed we would always feel whenever we total the number of Mingo Meals we have served, the boats we have delivered, and the mountains we have climbed.
But no matter how much we have done, no matter how many citations we will hear about ourselves, we will always be a Rolando in our hearts. And to the Rolandos like ourselves out there – the small groups of friends who band together to help make this world a better place, the ordinary men and women who dare to stand for causes and advocacies they believe in, the little children who break piggy banks so other children may be fed, the thousands of unnamed and unknown volunteers who do little acts of kindness in their homes, their villages and communities near and far….hindi kayo nag-iisa. Hindi TAYO nag-iisa. This award is yours as well.
And now, let me make a little confession. Just like any woman, one of the first things I thought of after receiving the letter of Fr. Bobby Yap informing us about the award, was to think of what I would be wearing for this afternoon's program. I pored through Instagram for ideas and made so many sketches of an outfit that would make me look good on stage.
However, I ended up choosing this handmade traditional attire of a tribe of Indigenous Peoples in my region. Even if this is loose and formless and makes me look fat, it helps me to remember that this is never about me, but about the laylayan whom we need to prioritize.
And then I was told to find one or two people who would assist Fr Bobby as the award is given. Of course, I began to shortlist who, amongst our organization's team, would be best to tap. But I ended up not naming an officer or staff but instead choosing Fr Noli Blancaflor, a priest who constantly blesses the work we do. Because again, this helps us to remember, that this recognition, as well as ALL the work we have done, is never because of us, but because of the God who makes all things possible.
Fr. Bobby Yap and the Ateneo Board of Trustees, the Search Committee and the panel of judges, in recognizing NVC Foundation's power to make a difference despite our littleness, our ordinariness and our powerlessness, you are recognizing the power of the human spirit, the generosity of an enlightened community, and the love of God who upholds all things good.
NVC Foundation has delivered, because God never fails.
Thank you. We can only repay you with the smiles of the children whom we serve.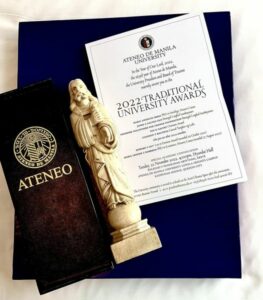 Each awardee was given a replica of the Sacred Heart statuette that Jose Rizal carved with his penknife out of batikuling (Philippine hardwood) while still a student at Ateneo Municipal de Manila.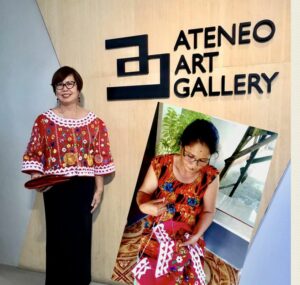 NVC Foundation President Millie Kilayko wore a top embellished with panubok embroidery of the Panay Bukidnon Tribe. NVC has been serving the Panay Bukidnon of  Lambunao, Iloilo for several years. Donations of Mingo Meals and LoveBags were coursed through us. Though not as popular as the terno, Kilayko chose to wear this top to remind herself that the work we do is never about us but about people whom we serve.