Warning
: Trying to access array offset on value of type bool in
/var/www/www.nvcfoundation-ph.org/wp-content/plugins/cmsmasters-content-composer/inc/shortcodes.php
on line
327
ABOUT US
ABOUT NVC FOUNDATION
NUTRITION, EDUCATION, LIVELIHOOD
OUR MISSION
NUTRITION, EDUCATION, LIVELIHOOD
To fight hunger and poverty by providing proper nutrition for poor children, as well as sustainable livelihood opportunities for their parents.
OUR VISION
FREEDOM FROM HUNGER AND POVERTY
We envision a nation free from hunger and poverty, built through personal social responsibility and collaborative partnerships.
OUR STORY
Negrense Volunteers for Change (NVC) Foundation, Inc. was established in August 2010 in Bacolod City, Philippines by private citizens who believe that by pooling the energies, resources, talents, and skills of individuals, we can bring about a better future for Filipinos.
We harness the power of private citizens to create positive and lasting change in their communities, towns and cities, and our country.
"Never doubt that a small group of thoughtful, committed citizens can change the world. Indeed, it is the only thing that ever has." –Margaret Mead, Anthropologist
NVC is a non-stock, non-profit organization registered under the Philippine Department of Social Welfare and Development (DSWD) and Securities and Exchange Commission (SEC).
DSWD Registration No. DSWD-FO VI R-0000053-2011
SEC Registration No. CN201029061
OUR PHILOSOPHY
We believe…
in the power of the ordinary person to effect positive and powerful change
that every person is born with a mission, and each singular step is useful and important
that a single dedicated person, no matter what his or her situation may be, can make positive and lasting change in the community
that strength comes from individuals working together towards a common vision
in forging partnerships and alliances as a vehicle to strengthen the power of the individual
that the poor and underprivileged must find meaning and hope beyond their daily livelihood and trade
in helping the people and communities we serve to help themselves and in harnessing their power to become partners in the building of our nation
BOARD OF TRUSTEES
Milagros (Millie) Kilayko
President
Therese Ng
Vice-President
Virgilio Roy Hojilla
Treasurer
BOARD MEMBERS
Therese Jochico
Teresa Lacson
Omon Maravilla
Charlemagne Yu
Regina Jacinto-Barrientos
Patrick Pesengco
MANAGEMENT OFFICE
Chief Executive Officer
Millie Kilayko
Administrative Affairs
Luis Jose Araneta
Accounting and Finance
Cleth Dizon Bulaong
Production and Manufacturing
Luis Jose Araneta
Victoria Grace Madalag
Programs
Mariel Tolentino
Marketing
Ria Lacson-Aviñante
Development and External Affairs
Suzy Peñalosa
Nutrition
Milette Regalado Cordero
Food Security
Luis Jose Araneta
Communications
Angela Mapa
MESSAGE FROM THE PRESIDENT
A LOVE NOTE THE LOVE TRAIL
For NVC Foundation, Inc, which turns ten years old this year, LOVE was always enough to get everything done.
Many times we were caught without the resources to accomplish a project, but always, without fail, a solution wrapped in love would arrive. At no time was this more pronounced than the first semester of 2020: a year which raised its curtains to the eruption of Taal Volcano and moved forward to the COVID-19 crisis.
An avalanche of the best of the human spirit, both from within the NVC Family as well as from donors and volunteers, sustained our emergency relief services from the distribution of Mingo Meals and farm-to-table Meal Bags which helped feed both the producers (small farmers and marginal fishermen) as well as the end users which were families who lost their earning capability due to lockdowns and quarantine. The production and provision of PPEs, propelled by volunteers, powered by donations from private individuals and driven by NVC to final distribution, allowed us to provide timely and adequate deliveries to the hospitals and health centers which needed them, were proofs of our adaptive capability in a collaborative setting.
This is our 4th edition of LOVE DELIVERS, our annual diary and gratitude journal. This is our thank you card to all those who have helped us bring NVC's brand of love to 45 provinces across the Philippine archipelago. And this is our story book for those who wish to know us better. May you all feel the love, and may our stories keep your hearts burning too
MILLIE L. KILAYKO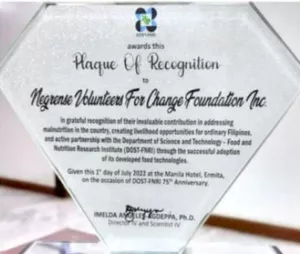 NVC was recognized as a valuable partner of DOST-FNRI during its diamond anniversary celebration on July 1, 2022 at the Manila Hotel.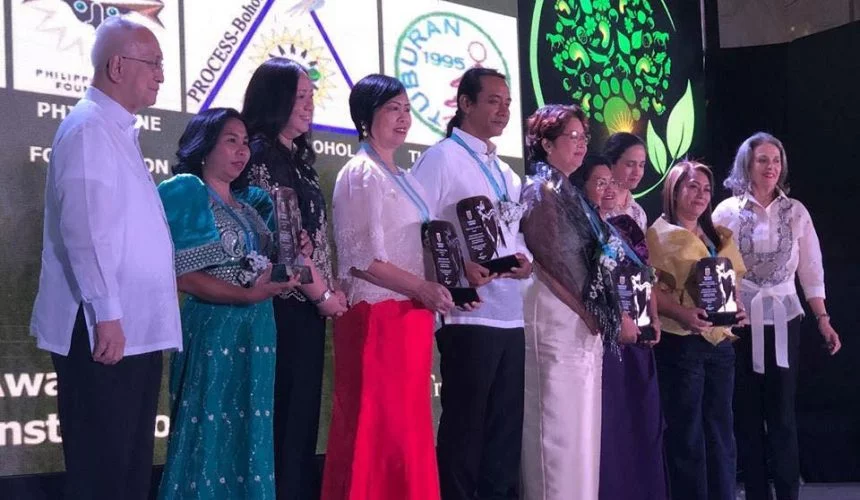 NVC is proud to be among the 5 finalists in the outstanding institution category at the 7th Ramon Aboitiz Foundation Inc. (RAFI) Triennial Awards.The awarding was held at the Bai Hotel in Cebu City on August 31, 2018.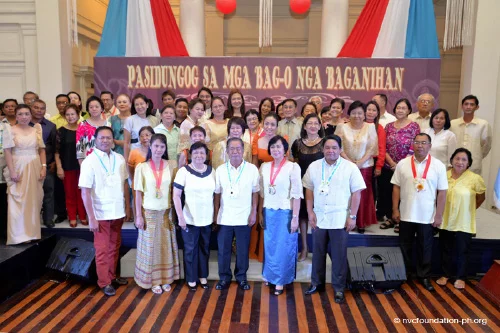 On November 5, 2014, NVC Foundation was given the Outstanding Negrense Award by the Provincial Government of Negros Occidental.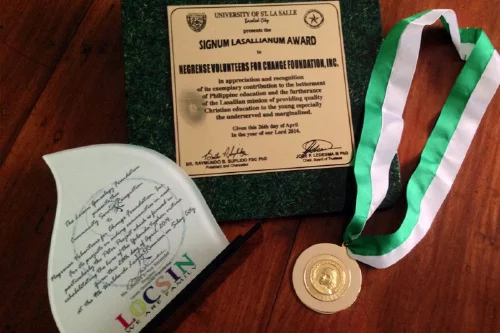 On April 26, 2014, NVC Foundation received the Signum La Sallianum Award from the University of St La Salle and a Community Service Award from the Locsin Genealogy Foundation
KEEP IN TOUCH WITH NVC
Join our mailing list to receive status reports, news, and volunteer opportunities from NVC. We keep our list private.
PHONE
EMAIL
ADDRESS
St. Vincent's Village, Brgy. Tangub
Bacolod City, Philippines