PROJECTS
NUTRITION PROJECTS
SOURCING FROM LOCAL FARMERS, WE MANUFACTURE NUTRITIOUS FOOD PRODUCTS TO FEED THE HUNGRY. OUR FLAGSHIP PRODUCT, MINGO, IS USED FOR A FEEDING PROGRAM FOR UNDERNOURISHED CHILDREN.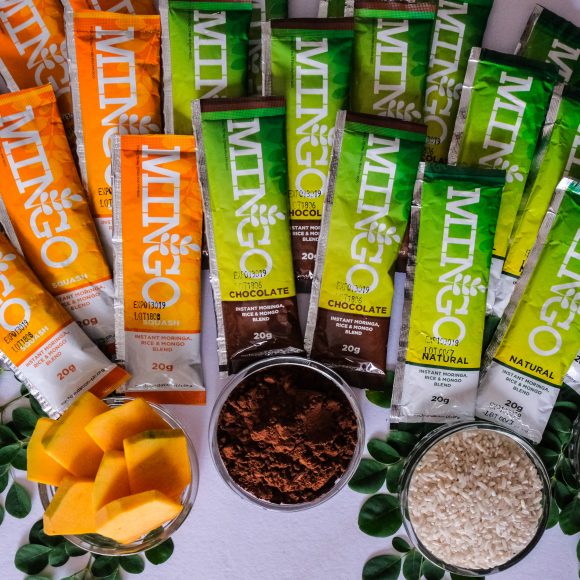 MINGO MEALS
NVC manufactures Mingo, a nutritious instant complementary food made of rice, mongo (mung beans), and malunggay (moringa). Mingo is primarily for infants and toddlers, but is also used for older children in areas of need.
Mingo comes in powder form and creates a porridge or drink when mixed with water, but hungry children often eat it straight from the sachet, which is okay, too!
Because of its convenience and nutritional value, Mingo has also gained popularity as emergency food in emergency relief operations. It has been used to feed people in a number of disaster or emergency situations in the Philippines.
Mingo Meals come in 20-gram individual-serving sachets or 1-kilogram packs.
Details
Basic ingredients: rice, mongo (mung beans), malunggay (moringa)
Variants: natural, choco (with sugar and cocoa), squash (with sugar and squash)
Nutrition information per 20-gram serving

Energy (calories): 73
Total fat (g): 0
Total carbohydrates (g): 16
Total protein (g): 1
Vitamins and minerals: Vitamins A, C, B1, B6, potassium, iron, calcium, and zinc
MINGO NUTRITION PROGRAM
NVC runs a nutrition program using Mingo for children of impoverished families to help them build strong bodies and sharp minds.
Nutrition starts at home
Most of government and NGO feeding programs focus on children 5 years and older, administered either in day care or elementary school. This leaves a gap in the nutrition of infants and toddlers, a stage when it is most needed. UNICEF Philippines states that "under-nutrition in the Philippines remains a serious problem. The damage to health, physical growth and brain development of children affected by chronic under-nutrition—stunting in the first two years—is often irreversible, impairing them for life and leaving them with lower chances of finishing school and becoming highly-productive adults."
NVC's Mingo Meals feeding module provides complementary food to target clusters of children aged 6–60 months in deprived communities through a systematic and holistic approach. NVC's protocol is home-based, making it easier for parents to provide Mingo daily to children rather than having to go to a center to get a daily feeding.
Hands-on monitoring
Children enrolled in the program are weighed at the start of the feeding, and monitored monthly throughout the program's duration. Field officers teach parents the importance of proper nutrition, give instructions on preparing Mingo, and also go door-to-door to check on beneficiaries.
Further reading: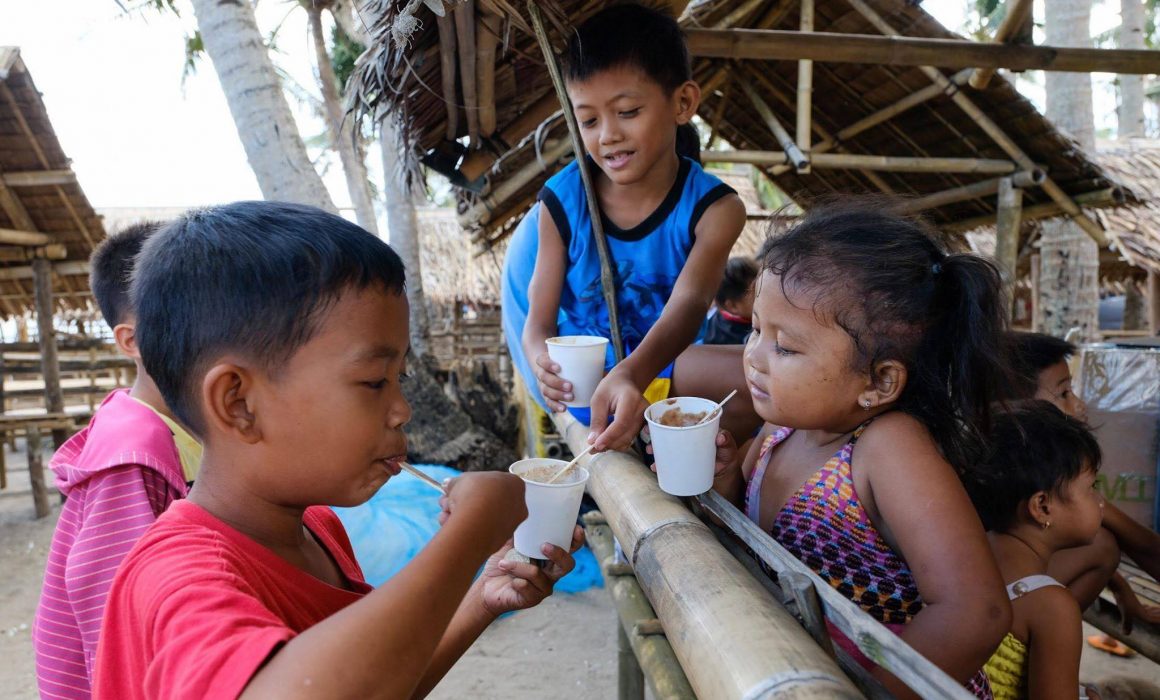 NUTRITION PROGRAM IN NUMBERS

Each child enrolled in the Mingo feeding program receives a daily 20-gram sachet of Mingo to boost his or her nutritional intake for the day. This goes on for a minimum of 6 months. Severely malnourished children are fed for 1 year and/or get a double dose of Mingo.
Most other feeding programs focus on older children who are already in day care or school. NVC fills a gap by targeting highly vulnerable infants and toddlers for whom breast milk is no longer enough.
The cost of feeding one child for six months. This includes screening to make sure children come from families in need and that mothers continue breastfeed where applicable. It also covers monitoring the child's progress during the feeding period.
FARM TO FORK PROGRAM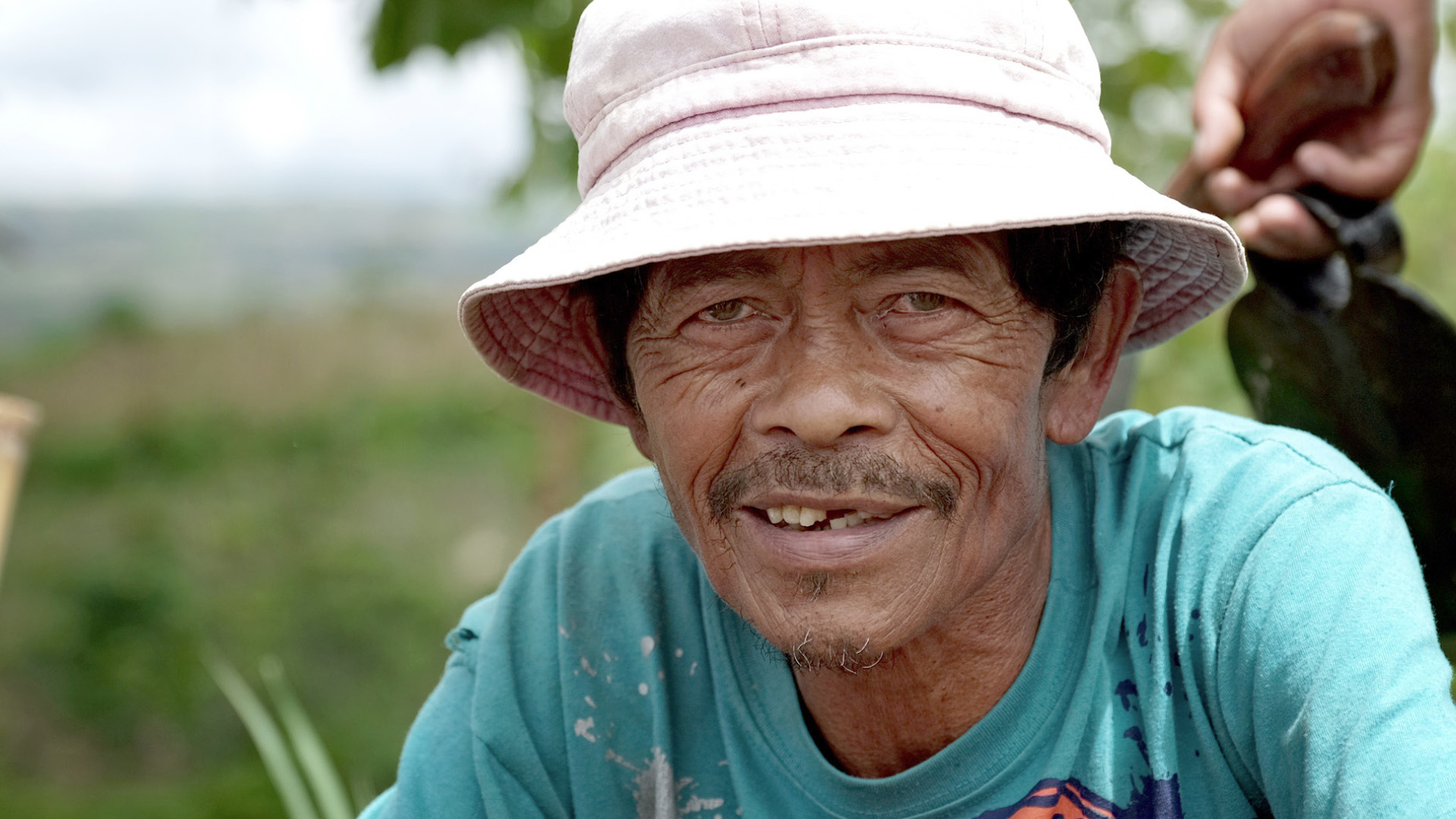 FOOD MANUFACTURING PLANT
NVC operates a facility in Bacolod City to manufacture Mingo and other nutrition packs for our partner, Rise Against Hunger Foundation. We use equipment provided by the Philippine Department of Science and Technology and other donors. Our manufacturing plant is licensed by the Philippine Food and Drug Administration.
WORKING WITH SMALL FARMERS
NVC sources produce from local small farmers and converts these into Mingo Meals and other food packs. Since there is no middleman, NVC pays higher than market price. Farmers earn more, and are assured of a buyer for their harvest. We also regularly visit and monitor our suppliers' growing areas.
Here are some examples of crops that NVC buys from its contracted growers.
Alogbati (Malabar spinach)
Saluyot/tugabang (jute leaves)
Kalabasa (squash)
Green mongo (mung beans)
Malunggay (moringa)
Kamote (sweet potato) tops
Orange kamote (sweet potato)
Saging saba (cardaba banana)
Green Indian mango
Batwan fruit (Garcinia binucao)
FARM TO FORK NEWS AND STORIES

YOUR DONATIONS HAVE SUPPORTED
enrolled in our Mingo Meals nutrition program as of March 31, 2019
served to children needing nutritional support as of March 31, 2019
who received motorized Peter Project fishing boats as of March 31, 2019
tools distributed to skilled workers as of March 31, 2019
delivered to school children as of March 31, 2019
built as of March 31, 2019
KEEP IN TOUCH WITH NVC
Join our mailing list to receive status reports, news, and volunteer opportunities from NVC. We keep our list private.