NUTRITION
MINGOY THE FOOD SHUTTLE
Mingoy the food shuttle travels where it's needed to feed the hungry.
Meet Mingoy, NVC's Food Shuttle
Where there are hungry children in the Philippines, there's no mountain high enough, no valley low enough, no river wide enough to keep NVC's Mingo Meals from getting to empty stomachs to nourish and sustain. NVC can now do its job a lot faster with its food shuttle, Mingoy.
Mingoy serves as a mobile base for the preparation of Mingo Meals for young children, as well as hot meals for adults in need. Mingoy can travel where it's needed within the whole of Negros Island, and as far as neighboring islands Cebu and Panay via RoRo (roll-on/roll-off ships) for emergency relief.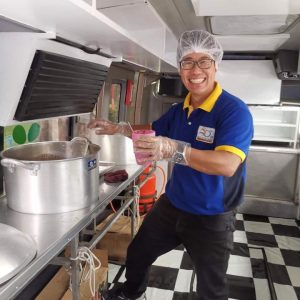 SOUP KITCHEN
Mingoy has a kitchen right inside the bus, positioned beside a wide service window that makes Mingoy an effective and efficient distribution center. Chef Richard Ynayan, Director of the Institute for Culinary Arts at the University of St. La Salle in Bacolod, helped us design the mobile kitchen.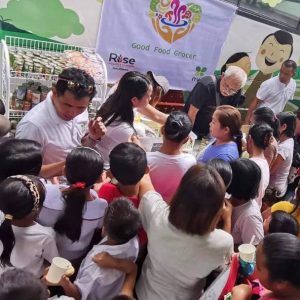 FOOD BANK
Mingoy is also an outlet for the Good Food Grocer, the food bank project of Rise Against Hunger Philippines. The Good Food Grocer sources donations of near-expiring packaged food products in good condition, which are resold at lower prices to marginalized communities. Mingoy serves a rolling store for the food bank.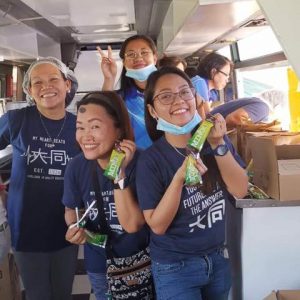 VOLUNTEER OPPORTUNITY
A journey on board Mingoy is a memorable, fun-filled way to volunteer as a group. We've welcomed families, schools, alumni groups, and corporations, whose members take part in the various tasks needed to feed hundreds as well as hold games and learning experiences for the community.
SPONSOR A FOOD TRIP
Sponsorship of a food trip by Mingoy starts at P18,000 depending on distance from Bacolod City.
The donation package includes Mingo Champorado with pandesal for 100 kids and 100 adults, or equivalent hot meals.
Email [email protected] for more information or to book your food trip.
MINGOY THE FOOD SHUTTLE NEWS AND STORIES

A Bacolod-based team from business process outsourcing company Teleperformance spent one Sunday morning on the road to Bago with NVC...
Read More
15 pretty ladies all in a row went to Sipalay in Negros Occidental to share time, talent and treasure. They...
Read More
YOUR DONATIONS HAVE SUPPORTED
children enrolled in our Mingo Meals nutrition program as of June 30,2021
Mingo Meals served as of June 30,2021
fisherfolk who received motorized Peter Project fishing boats as of June 30,2021
tools distributed to skilled workers as of June 30,2021
LoveBags delivered to school children as of June 30,2021
classrooms built as of June 30,2021
KEEP IN TOUCH WITH NVC
Join our mailing list to receive status reports, news, and volunteer opportunities from NVC. We keep our list private.