They say adversity breeds creativity and we certainly see that to be true in our Artisans' work. Beautiful crafts have always come out of our Artisans' Workshop but we are particularly proud of what our Artisans have produced lately despite all the challenges of 2020 and 2021. Take a look at some of their latest work:
Stars of Hope
Made from the scraps of the 17,040 PPE gowns NVC made and distributed to frontliners for the COMBAT THE COVID-19 Crisis campaign, this new Star of Hope helps us to remember that faith overcomes fear, courage sees us through crises, and hope shines bright because LOVE always delivers. The 4-inch star is hand beaded and embroidered and comes in 5 color combinations. Popular during Christmas as a tree ornament, it is a symbol of hope we can display all year round.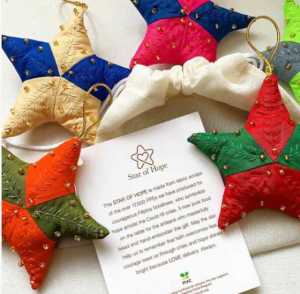 Inday in the Time of Covid
Inday is a term of endearment or respect in Ilonggo parlance and our Inday statuettes were already popular before the Covid pandemic hit. Our new line of Inday statuettes were inspired by how people have been meeting the recent hardships with grace and courage.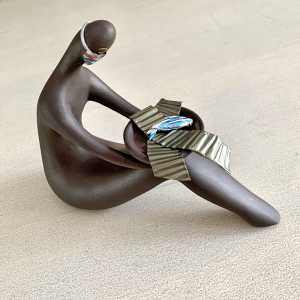 The Hungry Inday in Time of Covid statuette depicts the pain of a woman struggling to feed her family in these difficult times.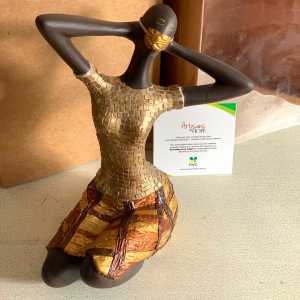 This piece from the Inday in Time of Covid – Undaunted collection shows the fortitude of women who do their best to overcome different crises.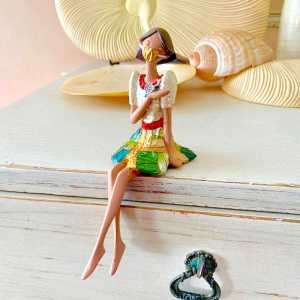 The cheerful colors of this shelf sitter reflect a woman's strong heart and faith in better things to come. Brighten a corner of your home with this charming accent piece.
The Plantita Series
Gardening became extremely popular when the country was under lockdown. Here are some items that will surely appeal to the Plantita or Plantito/Halaman in you!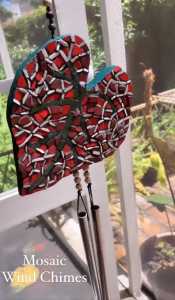 Sit back and relax to the soothing tinkling sounds of these Caladium wind chimes made from mosaic tiles.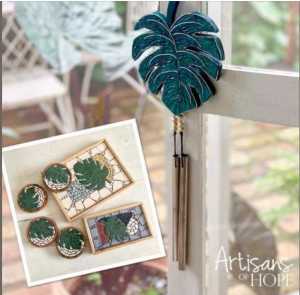 Our Artisans cleverly crafted these Monstera wind chimes out of used coffee capsules.
Inset and below: Add a pop of green to your table with these mosaic tile coasters and trays highlighting the lush leaves of the Monstera plant.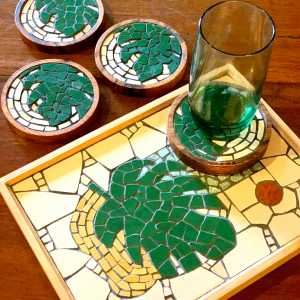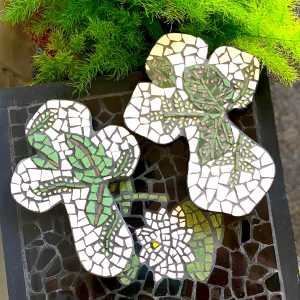 Give thanks to the Lord for his wonderous creations! These lovely crosses will bring a bit of the outdoors into your home.
Our folding tables in eye-catching designs have been best-sellers for many years and they fit right in with the pieces from our Plantita Series! We accept custom orders.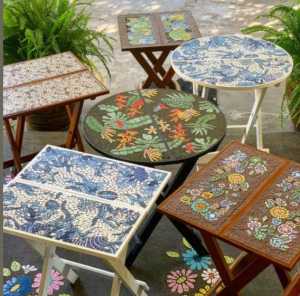 Decor You'll Adore
Liven up any living space with these vignettes depicting different people's lives in the time of Covid. Left: Hanapbuhay in Time of Covid (A). Right: Plantita Series (B).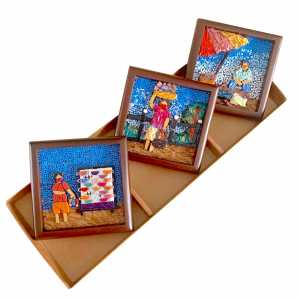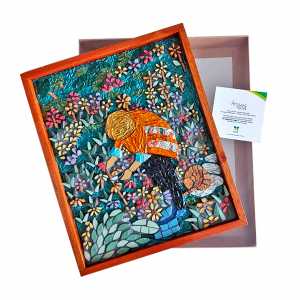 Gigi Campos Fundraiser
Like a garden, the life of Gigi Mondoñedo Campos is complete with colors, seasons and a wide range of tempo from allegro to presto, shuffling life vocations, many times simultaneously, from artist, entrepreneur, community leader, wife and mother. Gigi's artistic expression shines in her watercolor paintings, many of which she has donated to NVC Foundation's fundraiser for the establishment of Gardens of Hope to provide food security and livelihood for marginalized families affected by the COVID-19 crisis. While these works were not made by our Artisans, we are proud to carry such beautiful pieces in our store.
Let your loved ones know you are thinking of them. Drop them a note written on a pretty card from the Garden of Hope collection.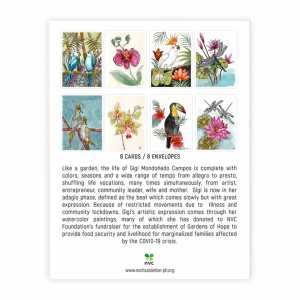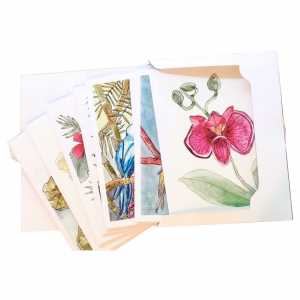 Brighten up your home with these framed watercolor paintings of birds and plants by Gigi Campos.