Jami for Mingo
33% of Filipino children are malnourished and stunted. Studies show that this is due to long periods of hunger and inequality of access to nutritious food. To address this concern, NVC Foundation sought to formulate a nutritious and cost-effective food product that could be served to undernourished children. In 2011, we developed MINGO in partnership with the Food and Nutrition Research Institute of the Department of Science and Technology (DOST-FNRI). Mingo is a natural instant porridge made from locally grown rice, monggo and malunggay. We use it to help bring malnourished children to normalcy. To date, NVC Foundation has served more than 23,000,000 Mingo Meals in 60 provinces all over the Philippines. By providing them good nutrition at a young age, Mingo gives children of impoverished Filipino families hope for a better future.
Bike shop owner and fitness enthusiast Jami Ramirez hails from Bacolod, NVC Foundation's home province. Jami is took part in the Tour Divide, a grueling backpacking race through parts of Canada and the US. To make his ride more meaningful, he biked to raise funds for Mingo for undernourished children in the Philippines. A MingoMeal costs just P8.00 (about USD0.14) so every little bit of support goes a long way.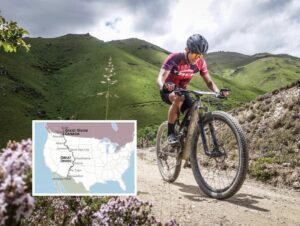 The journey down the Rocky Mountains was about 2,700-mi (about 4,400-km). Jami was part of the first Philippine contingent to ever join this race. He joined together with a friend who also rode to support a worthy cause.
The Journey
As Americans were celebrating Independence Day, Jami celebrated crossing the finish line. Despite starting two days after other participants (due to delays with his visa), Jami finished strong. Whenever he thought of giving up, he thought of the hungry kids waiting for Mingo back home. His trek lasted 25 days and took him from Alberta, Canada all the way down to the border between the US and Mexico. He braved jetlag, loneliness, fatigue, the cold, and even bears! Thankfully, his efforts were not in vain because he raised enough for more than 65,000 Mingo Meals! Even after he completed the race, donations continued to pour in.
We thank those who have donated to his cause, prayed for him and offered him encouragement!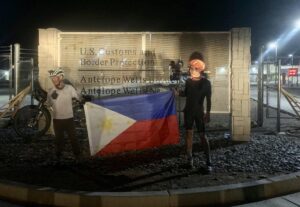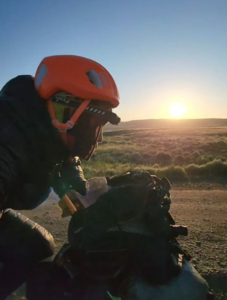 Left: Jami and fellow-Filipino Tour Divide rider Aldean Lim proudly hold up the Philippine flag at the finish line.
A Hero's Welcome
On August 10, Jami dropped by NVC's headquarters to discuss details the of how his donation would be used. We jumped at the chance to show him how grateful we were for all his hard work. We decorated our office with streamers and balloons and everyone lined up to cheer him on as he walked in. Needless to say, Jami was floored by the surprise welcome we prepared for him.
We really can't' say this enough–thank you, Jami!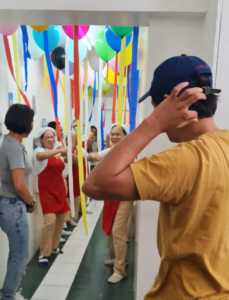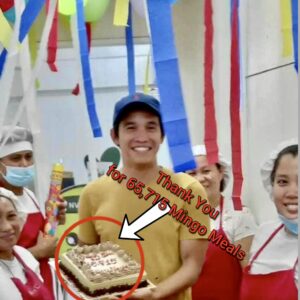 Left: Workers lined up to greet Jami as he walked in.  Above: Jami poses with the cake we had made for him. Check out the caption above.