Balsam Brands, a US-based e-commerce company with operations in the Philippines, is hosting a screening of:
The Lion King
on July 17, 2019 (4:00 pm)
at Ayala Malls the 30th, Pasig City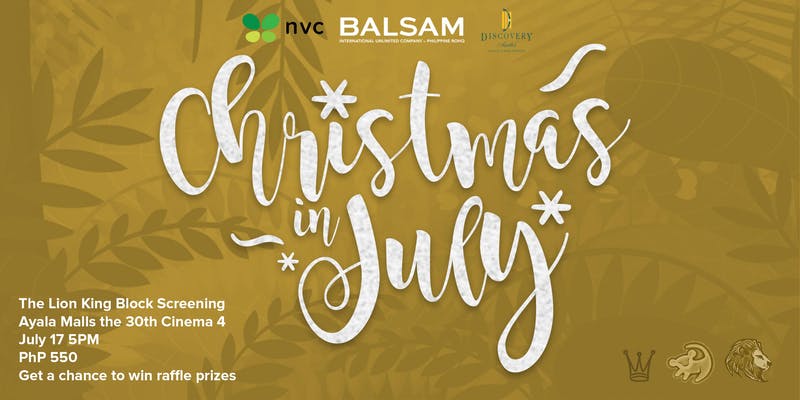 Watch for a Cause
Each ticket is Php 550.00, and 100% of ticket sales will be donated to NVC's 10 Million Mingo Meals campaign. On top of this, Balsam will match 100% of ticket sales to double the donation.
And Win Prizes, Too
Ticket holders are automatically entered in a raffle with the following prizes at stake:
Balsam's Christmas in July
Balsam Brands is the world's largest online retailer of artificial Christmas trees and holiday decor. As a responsible corporate citizen, Balsam has always given back to the community. It holds an annual Chrsitmas in July campaign to raise funds for various charities all over the world. Balsam first partnered with NVC Foundation following the 2013 supertyphoon Haiyan, out of concern for its Philippine-based employees.
Since then, Balsam (through NVC Foundation) has provided over 1,000 schoolchildren in remote mountain communities with school backpacks and supplies; supported NVC's Mingo Meals feeding program; provided fishing boats, pedicabs, farming equipment, and other livelihood tools to skilled workers to increase their income stream. Balsam maintains an active and ongoing partnership with NVC and we're truly grateful for your trust and support!
Offices in Redwood City, CA and Boise, ID do their part
This is hardly the first time Balsam employees have, on their own initiative, fundraised for a cause. In early June, staff in Balsam's California and Idaho offices kicked off their contribution to NVC's 10 Million Mingo Meals Campaign with individual and group efforts. For donations, one grilled his signature steaks. Others brought precious pieces for auction. An enterprising individual shaved off his beard for the amount of $250! All contributions were matched 100% by the company, which brought the total to US$ 24,000 — a total of 96,000 Mingo Meals!