NVC's Nespresso Art
Donate your used Nespresso capsules to NVC Foundation, provide livelihood and feed undernourished children
Our Artisans of Hope project trains people with limited income opportunities to create fine art from discarded materials like Nespresso capsules, eggshells, and leftover tiles. These artisans are able to make a good living from their highly sought-after work. All proceeds from artisan products are then poured into NVC's feeding program for undernourished children or those affected by disasters.
Artisans of Hope product gallery
Donate your used coffee capsules
At this time, we only accept single-serve coffee capsules made of  aluminum or other metals. Unfortunately, plastic coffee pods are not pliable and can't be used for our crafts. Drop off your capsules at the following locations:
Manila
Makati:
9 Hidalgo
San Lorenzo Village
(Attn: Nena)
San Juan:
Fiesta Greetings Bldg.
160 Alfonso XIII, San Juan
(Attn: Mariel Tolentino)
Pasig:
Unit E124, Tower E-1
Alexandra Condominium
(Attn: Adele Olives)
Taguig:
Ines Moda Infantil
2A Kensington Place
1st Avenue, BGC
+63917-6223318
(Attn: Joy)
Bacolod and Cebu
Bacolod:
54 Lizares Avenue, Bacolod City
(Attn: Hermie) or

1Point BDO Doll Building
6th Street, Bacolod City
(Attn: Pete)

Cebu:
Island Grill, 4th Floor
Ayala Center Cebu
Nespresso stores will accept your used pods and turn them over to us.
Beneficiaries of Nespresso art
Aside from the artisans who benefit from each upcycled Nespresso art piece that collectors acquire, all proceeds of these pieces go back to NVC's development projects. For those of you who support this project by purchasing art pieces or donating used Nespresso capsules, thank you on behalf of the hungry little stomachs you help feed.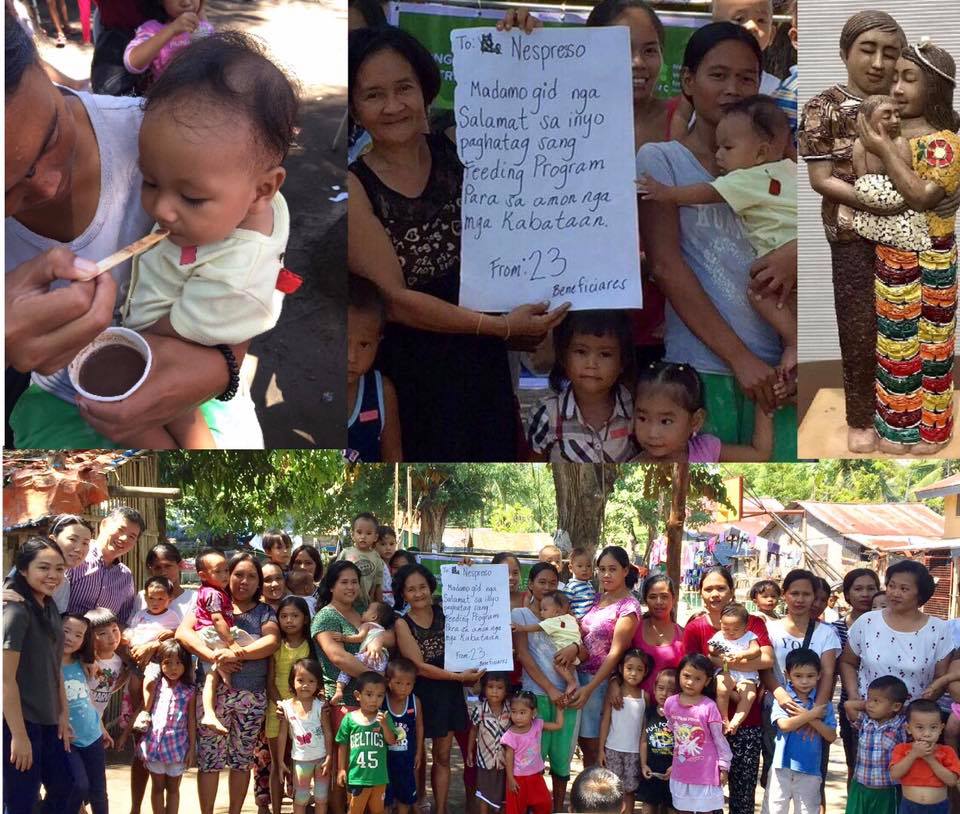 KEEP IN TOUCH WITH NVC
Join our mailing list to receive status reports, news, and volunteer opportunities from NVC. We keep our list private.
PHONE
EMAIL
ADDRESS
St. Vincent's Village, Brgy. Tangub
Bacolod City, Philippines