Love from Landers
Landers Superstore will soon be opening its doors in Bacolod and we're very happy to welcome them to the neighborhood! Many customers love Landers because of their great products and services at affordable prices. We love them for that too, but we also love them for another reason: they share our heart for service. Even before Landers began setting up shop in the City of Smiles, they had already been coursing generous gifts of love to hungry children through NVC.
Answering Our Call
In June 2019, we set out to raise funds for 10,000,000 Mingo Meals for hungry children before January 1, 2020. Landers was one of the companies that responded to our call. For every purchase of a Landers Christmas eco bag from October 26 to December 31, 2019, they donated P5.00 to the Mingo Meals fund. Through that campaign, they raised enough funds for 16,890 Mingo Meals.
On top of that, Landers employees joined the kick-off of the Mingo Meals Nutrition Program of 200 children in Matictic, Norzagaray, Bulacan. They provided manpower and donated delicious snacks for the kids to take home.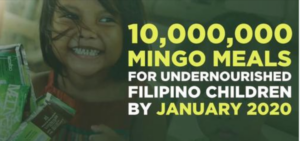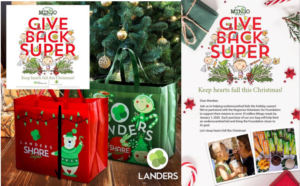 Full Tummies, Full Hearts
The partnership continued in 2021. For every Landers Christmas eco-bag purchased from October 1 to December 31, 2021, Landers donated a portion of the sales to another Mingo Meals fund.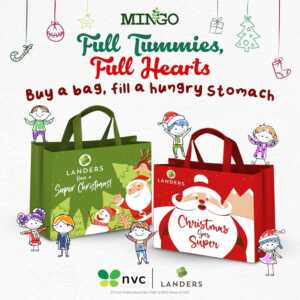 Three Batches and Counting
Landers has already sponsored three batches of children in the Mingo Meals Nutrition Program. Here's a photo of some of the 100 children in Bacolod who are now on the road to better health thanks to Landers. We look forward to more partnerships with our new neighbor!