Emergency Relief for Polillo Island
Super Typhoon Karding (international name: Typhoon Noru) first made landfall in the Philippines at Burdeos, Polillo Island, Quezon Province. The storm began battering the island on the afternoon of September 25.
The following day, NVC Foundation sent 10,000 Mingo Meals to Polillo. Our team coordinated with Fr. Bong Sarabia, CM to make sure that the Mingo Meals got to where they were needed.
After the storm, NVC was the first NGO to visit some parts the island such as Brgy. Bonifacio, Burdeos. In addition to serving Mingo Meals around the island, our Field Officer conducted site inspections. Fr. Bong and Sr. Zorina Zamora assisted her.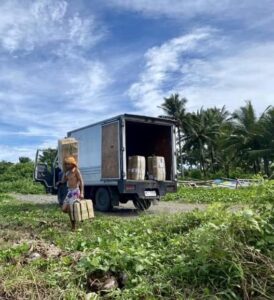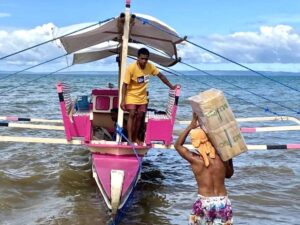 We sent our Field Officer with Mingo Meals in a truck provided by Fr. Bong to the shores of Quezon Province. From there, our Field Officer and the Mingo rode a banka to get to Polillo.
Rebuilding Homes and Restoring Livelihood
Thank you to all the generous friends who sponsored the Mingo Meals NVC served during its visit to the island. We now ask for more support to continue to help the people of Polillo.
Moving forward, we will focus on rebuilding the homes and lives of the people of Brgy. Bonifacio. This place is home to 260 Dugmagat Lumad families living in 243 households. These families relied on banana farming and fishing to make a living. Now, all the banana trees are gone and five large boats are in need of repair and engine replacement. 143 homes are totally damaged and 100 need repair.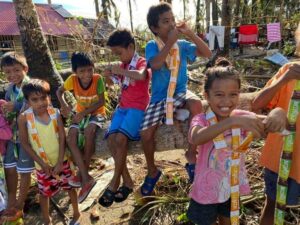 Above: Children flashed us big smiles when we gave them Mingo Meals after the storm.
Right: Crisanta and two of her five children sit on what is left of their family home in Brgy. Bonifacio.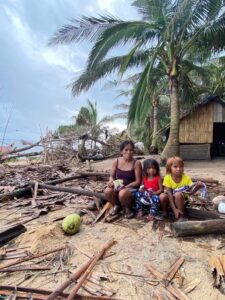 Rebuilding of Homes Begins
Our budget for construction of homes included materials for flooring, walls and roofing. Generous donors gave us money to build 32 homes. However, Fr. Bong and the members of the community found a way to save money. Since they had been given tents by USAID and UNICEF, these were worked into the design for the new homes. Therefore, there was some money left over. In the end, Fr. Bong decided to use these excess funds to buy solar lamps to light homes and the street.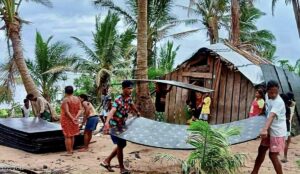 32 Polillo families received plywood to rebuild their homes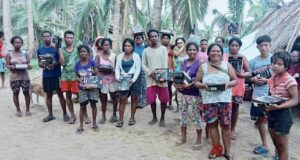 Residents of Polillo pose with their solar light kits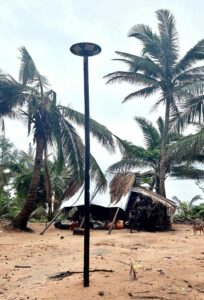 A total of 5 UFO-shaped solar streetlamps were put up to light up the street and public areas
Several Ways to Send Assistance
If you'd like to support this cause, please refer to the donation information below. We issue Official Receipts for all donations. Please send us a copy of your transaction slip so that we can prepare your receipt. You can contact us via Facebook or email us at [email protected] Thank you for your generosity!