Reprinted from The Visayan Daily Star
By Carla P. Gomez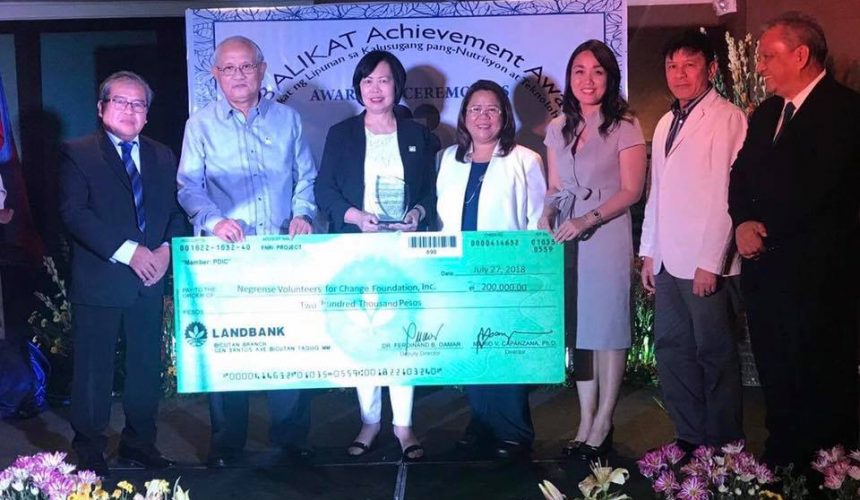 The Negrense Volunteers for Change Foundation was one of the recipients of the 1st Kabalikat Achievement Award from the Department of Science and Technology at the Dusit Thani Manila Hotel in Makati City, yesterday [July 27, 2018].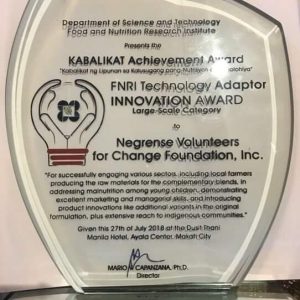 The award, that was accompanied by a P200,000 cash prize, was received by NVC president Millie Kilayko from DOST Undersecretary Rowena Guevara and Food Nutrition Research Institute (FNRI) Director Dr. Mario Capanzana.
Kilayko was accompanied by NVC Executive Director Milette Regalado and Operations Manager Luis Araneta in receiving the award.
NVC received the DOST FNRI "Technology Adaptor Innovation Award" in the large scale category.
"The innovation award is awarded to DOST's implementor partner who implemented the program beyond usual expectations," Capanzana said in his speech.
The award was given for NVC's successfully engaging various sectors, including local farmers producing the raw materials for the complementary blends, in addressing malnutrition among young children, Capanzana also said in the NVC citation.
NVC has also demonstrated excellent management and marketing skills, and introduced product innovations like additional variants in the original formulation, plus extensive reach to indigenous communities, he added.
Kilayko said NVC has delivered 7,471,691 Mingo Meals in 34 provinces since the DOST FNRI introduced the foundation to complementary food to provide nutritional support for infants and toddlers in deprived communities in remote areas seven years ago, she said.
The foundation has sourced the materials for its Mingo Meals from 222 small farmers, she added.
Mingo is a nutritious instant complementary food made of rice, mongo (mung beans), and malunggay (moringa), Kilayko said.*