Project Overview
In many of the poor communities where we work, we encounter skilled, talented people who lack the resources to make the most of their abilities.
Through Project Joseph, we find donors willing to fill this gap and provide recipients with the means to earn a higher and more stable income.
Livelihood needs vary depending on region and community, but examples include pedicabs, sewing machines, motorbikes, ovens, carpentry tools, and farming supplies.
Project Details
Goal
Project Joseph helps people with income-generating skills but lacking in specific resources to earn a more stable and higher living by providing them with the appropriate tools that will give them a step up in life.
Recipients
People in NVC communities who have a skill or trade that can earn them a higher income with the right resources. These include, among others:
carpentry
welding
sewing
cooking and baking
farming
professional tricycle, motorcyle, or pedicab operation and driving
Where applicable, we ask recipients to show proof of their skill, such as actual products made, a certificate from the Technical Education and Skills Development Authority of the Philippines, or existing employment that uses the skill, but without adequate compensation.
We provide recipients with resources such as carpentry and welding tools, sewing machines, ovens and kitchen utensils, agricultural supplies, pedicabs, and tricycles to start or expand a micro business, or accept freelance work that will increase their income.
Accountability and Monitoring
All Project Joseph participants sign an agreement with NVC stating their understanding that the donation is endorsed solely to him or her for operation and livelihood. Thus, the donation cannot be rented out or sold.
Field officers regularly monitor participants, and NVC reserves the right to withdraw the tool from a recipient and give it to someone else.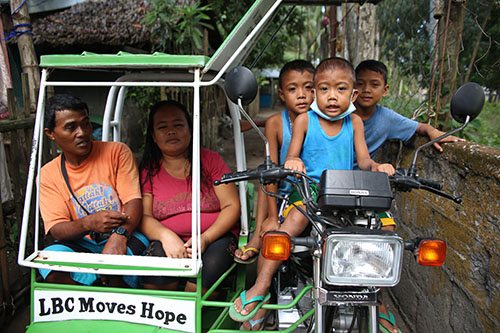 MAKE SOMEONE'S DREAM COME TRUE
In our existing communities, we have identified recipients with common sets of skills that require the same kinds of donations.
We have an updated list of reequired resources and potential recipients. If you wish to see the list, please email [email protected].
FAQ
Will the donation of a tool add to or replace the project participant's current income?
This depends on the recipient's unique circumstance. In many cases, the tool will help a recipient become better or more efficient at his or her existing trade. In other cases, the tool may augment a recipient's existing income or may allow him or her to leave a trade that is not very lucrative.
Does the cost of donation cover anything else apart from the tool or equipment itself?
Yes, there is a 15% addition for administration, documentation, and monitoring of project participants. This is included in the published cost of sponsorship.
Do you have any other questions or concerns?
If you have any other concerns, please send us a Facebook private message or email [email protected] and we'll respond to your inquiry as quickly as possible.