by Jane Barcenas-Bisuña, Abram's mom
The author works in an international development institution and has published this article in their internal online newsletter.
---
"I learned from Disney that everyone has the power to make a difference. So, I am using my power—my creativity—to help kids of this generation become healthier and stronger."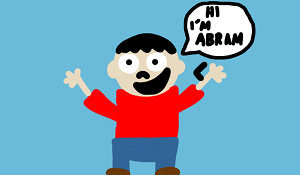 These were the words my 11-year-old son Abram Karol Bisuña, who has autism, uttered spontaneously when asked why he decided to help other children through the Negrense Volunteers for Change (NVC) Foundation. Last January, Abram was conferred the title NVC Ambassador, as NVC said they believed in "his ability to spread the NVC brand of love through his exceptional artistry, remarkable communication skills, and commitment to helping others."
NVC is a non-profit organization that aims to fight hunger and poverty by providing proper nutrition and access to quality education for the children of the poor, and sustainable livelihood opportunities for their parents. NVC believes that all private individuals—by pooling resources, talents and skills—will be able to forge a better future for the next generation of Filipinos.
Succeeding with autism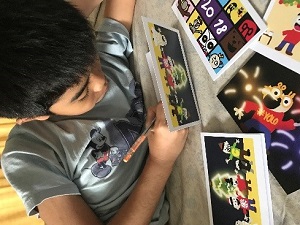 Abram was diagnosed with high-functioning autism when he was 3 years old. Since the diagnosis, he has benefitted from early developmental interventions (such as speech therapy, occupational therapy and applied behavioral analysis) not to overcome autism, but to succeed with it. Beyond the therapies, we have provided Abram an environment of love, caring and acceptance. In return, he has given us more. Every day, he teaches us kindness and positivity, and showers us with so much love and happiness.
Growing up, Abram loved to create children's stories, drawings, videos, DIY-projects, and recycled toys. He came up with his own tale "Abram's Journey," which showcases a jolly character named after himself, whose purpose in life is to spread happiness and save his friends—Zinga, Bea, Cobby and Tristan— from trouble. All his current artworks are focused on the Abram's Journey storyline.
Abram has already defined his future and is very determined to realize it. He said he will someday become a Disney animator, and will make Abram's Journey a popular animated show that will inspire children. As supportive parents, we just let him cherish his dreams no matter how far-fetched they may be. I think it is important that we allow our children, especially those with special needs, to express themselves freely without inhibitions, recognize their passions, and work toward reaching their ideals. We are confident that someday Abram will find a niche for himself—something he can do well as a functional member of the society.
Channeling extraordinary talent to helping others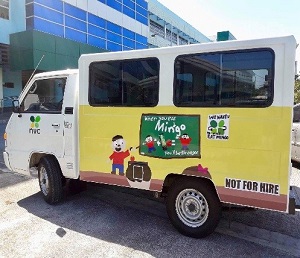 Indeed, Abram has found his niche. During the holiday season last year, Abram decided to make Abram's Journey merchandise and started with greeting cards and gift tags. Friends and family found the cards awesome and they bought them all. Wanting to instill in Abram the value of generosity and social responsibility, we shared part of his profit to other children in need through NVC—a foundation who also believes in the power of paying it forward. Abram's small amount of money was able to buy 6 LoveBags, which NVC distributed to students with special needs in a SPED school in Silay, Negros Occidental.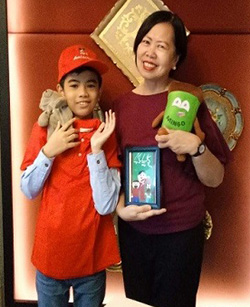 "When Abram sent us cards with special notes for the kids who would receive the LoveBags, we knew in our hearts that we had connected with an awesome boy. Our hearts were right! Abram then began to draw posters with messages promoting NVC's goals and projects most especially Mingo Meals and LoveBags for kids. Two of Abram's posters are now painted on NVC's newly acquired delivery van. We wanted a way to engage him, to channel his creativity into a sense of mission with deeper meaning. Thus, we decided to appoint him as NVC Ambassador, and hand this title to him in a little ceremony that would make him understand that with the title, comes responsibility," says NVC President Millie Kilayko. Read more on how Abram became NVC's Ambassador.
NVC Ambassador starts to roll
Abram fully understands his responsibilities as NVC Ambassador. He has, like a marketing pro, discussed his plans for helping NVC make its projects more interesting and appealing to children. He promised to produce posters, comic strips and puppet shows to promote Mingo Meals and LoveBags.
Through the help of his family and friends, Abram will try to bring in more sponsors for the LoveBag project. This is important to him because he intends to join NVC and other volunteers in May when they stuff school supplies into LoveBags that will be sent off to kids from the tribes in various parts of the country. Abram also wants to increase the number of Mingo Meals provided to children needing nutritional support.
When browsing NVC's annual report, Abram noticed that NVC has so far built 199 classrooms in remote villages. "Why only 199? It has to be 200!" Abram instantly set forth his long-term goal of finding the means to build the 200th classroom, which hopefully will cater to children with special needs.
Abram donates all his artworks to NVC as a way of helping others. His being Ambassador is paid not with money but with love and appreciation from NVC and the communities they are helping. This is changing our lives positively–we feel a great sense of fulfillment through Abram's work.
Looking forward to a bright future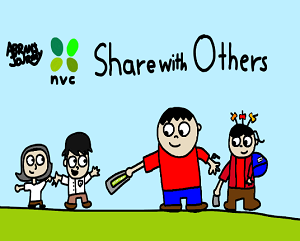 Children of this generation are different in a special kind of way. They are bolder, and their ideas are beyond bounds. Parents like us should give them all the avenues to blossom and reach their fullest potential. With our guidance, I am confident that Abram will seize the endless opportunities that await him in the future.
"When I become a Disney animator, I will never forget NVC. I will tell Disney to partner with NVC so together they can care for more children." Abram pledged his commitment to his new office.
When people ask me how it feels to have a child with autism, I always say it is wonderful! I wouldn't want my son any other way! I feel I might have done something good in life to be blessed with a child as loving, pure-hearted and special like Abram, my little Ambassador.