Emergency Relief for Areas Affected by Typhoon Paeng (Nalgae)
Typhoon Paeng (Nalgae) first made landfall in Catanduanes on October 29 and proceeded to make landfall four more times before finally exiting the Philippines' area of responsibility. Even before the typhoon made landfall, it brought strong rains to parts of the country. NVC Foundation's relief operations began the day after the strong rains began. Though not classified as a super typhoon, Paeng managed to cause a lot of damage and quite a number of casualties.
NVC Foundation has been sending assistance in the form of Mingo Meals to various areas affected by the strong wind, torrential rain and heavy flooding.

Damage caused by Typhoon Paeng in Antique.
Mingo for Nutritional Support
On October 28, it rained heavily in several parts of the country including our home province of Negros. This caused flooding which forced families to flee to nearby evacuation centers. Though LGUs were prepared with emergency food supplies, stress places additional nutritional requirements on the body so we make it a point send Mingo Meals to evacuation centers to give children additional nutrition support needed to cope with emergency situations.
On the morning of October 29, NVC Foundation began sending boxes of Mingo to various evacuation centers around Negros.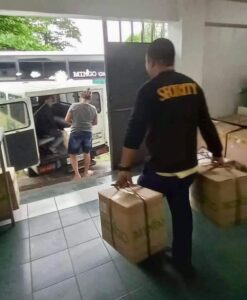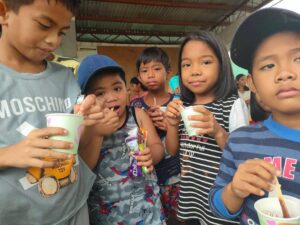 Above: Children in Brgy. Gil Montilla in Sipalay enjoy cups of Mingo at the evacuation center.
Center: Boxes of Mingo being loaded for deployment to various evacuation centers around Negros.
Sending Mingo to Antique
Typhoon Paeng caused flooding and landslides in Antique making it one of the areas NVC identified for Mingo for Emergency Nutritional Support. As luck would have it, NVC had representation on the ground. Our field officer Alyne happened to be on vacation in Boracay. When we reached out to our volunteer network, we discovered that NVC volunteer Ariel Lastica, champion mentor of farmers who has been helping us with food sustainability projects, was also on the island.
With the additional assistance of Henry Doliguez, President of Kalipunan ng Magsasaka sa Patnongon (KAMAPAT), and his team, NVC was able to send Mingo Meals to Antique. Roads and bridges were in bad shape after the storm and the volunteers had to carry the boxes part of the way. The delivery arrived at Brgy. Igburi on the morning of November 1. The Mingo Meals will be distributed to children of surrounding areas which had been affected by landslides.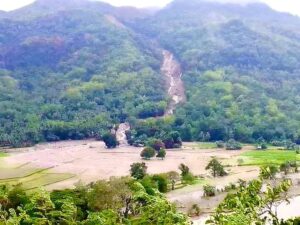 Above: A landslide caused by the heavy rains in Antique.
Right: The team unloads boxes of Mingo for Brgy. Igburi and nearby barangays.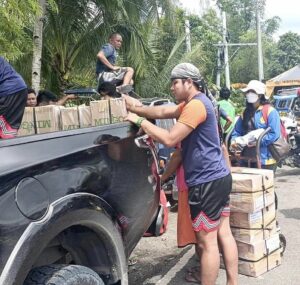 Typhoon Season
Many strong typhoons tend to hit the Philippines at the end of the year. In fact, NVC Foundation is now simultaneously assisting Typhoon Karding survivors in Quezon Province and Typhoon Paeng survivors. We are also continuing some work on projects for Typhoon Odette (December 2021) survivors. Meanwhile, a tropical storm (Queenie) is headed towards the country. We hope it does not progress to a typhoon.
No matter how many storms come, we at NVC are committed to assisting with typhoon relief in whatever way we can.
Right: Typhoon Queenie approaches the Philippines from the east. Photo courtesy of mindanews.com.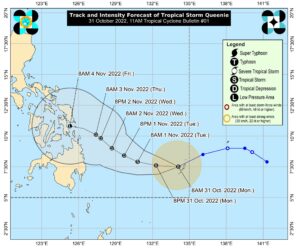 Livelihood Assistance
Last year, Havaianas PH came to the rescue of 36 oyster farmers in Ilog, Negros Occidental. Typhoon Odette had destroyed all their growing pens and some of their boats. The farmers had already gotten back on their feet. In fact, they had a bumper crop of oysters in September. A new crop was already growing when Typhoon Paeng washed everything away once more. We are hoping to help all 36 of the farmers. Some kind hearts have already stepped forward to help out but we need more help. It costs P8,000 to sponsor an oyster farmer. Please let us know if you'd like to help out.
Right: The livelihood of the Ilog oyster farmers was washed away by two strong typhoons less than one year apart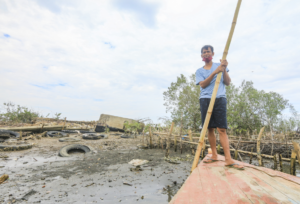 Helping Out in Sultan Kudarat
In December, we served Mingo Meals to children affected by Typhoon Paeng in Brgy Lembo, Sultan Kudarat. We were able to do so thanks to gifts of love from Palawan. Also, stuffed toys from A Child's Place Preschool in Bacolod were key components for stress debriefing sessions held for 200 children. Thank you to the Mindanao Emergency Response Network Ranaw Cluster in coordination with the MiHANDS for handling the stress debriefing.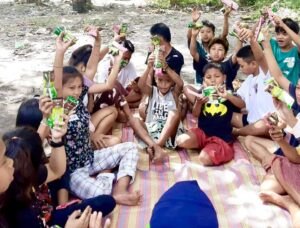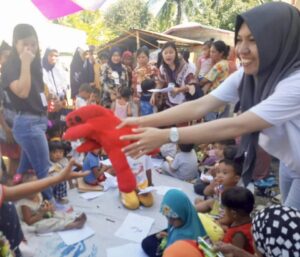 Several Ways to Send Assistance
If you'd like to support this cause, please refer to the donation information below. We issue Official Receipts for all donations. Please send us a copy of your transaction slip so that we can prepare your receipt. You can contact us via Facebook or email us at [email protected] Thank you for your generosity!