A Longtime Partnership
This is not the first time that NVC Foundation has worked hand in hand with Atty. Leni Robredo. Our partnership with her began in 2014 when she was the representative of Camarines Sur, third district and it continued to grow as she moved on to the position of Vice President. Through the Jesse Robredo Foundation she supported fishermen in Eastern Samar after Typhoon Yolanda by donating Peter Project boats.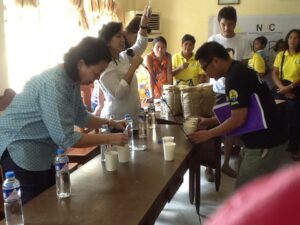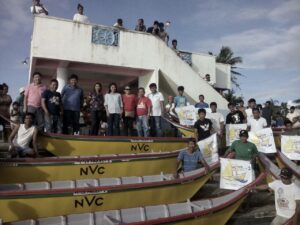 Left: Then congresswoman Leni Robredo explained in the local language how to prepare Mingo. Right: Photo taken at the turnover of boats.
Towards the end of her vice presidential term, she tapped us to be her office's ground partners implementing a home rebuilding project for Typhoon Odette survivors. And in her final speech, the outgoing Vice President thanked us for our long-term partnership with her office's Angat Buhay nutrition program.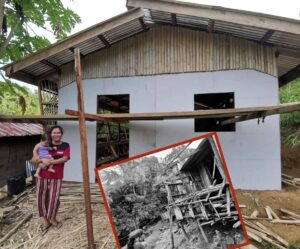 Robelyn, one of the storm's survivors proudly shows off her family's new home built using a shelter starter kit from the Office of the Vice President.
NVC Signs MOA with Angat Buhay
Though Atty. Robredo has gone back to being a private citizen, her commitment to serve the Filipino people remains strong. In line with this, she launched Angat Buhay the Foundation on July 1, 2022. Shortly after (on July 13), Angat Buhay signed MOAs with three groups, including NVC. NVC Foundation is now the official Nutrition Partner of Angat Buhay Foundation.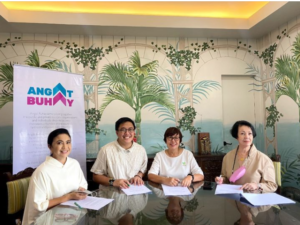 Sharing an Inquirer photo (from left to right): Atty. Leni Robredo, Angat Buhay's Executive Director Raffy Magno, NVC President Millie Kilayko and NVC Partner Mariel Tolentino
We Kick Off Angat Bukas: Busog, Lusog, Sigla!
We're happy to be working together with other groups in response to the Shared Prosperity Agenda on Education and Nutrition of Angat Buhay. On Septmber 2, we kicked off our duties as Angat Buhay's official Nutrition partner. We took the Mingo Bus over to Himamaylan to serve
MingoChamporado
and
MingoBuns
to 200 children and their mothers.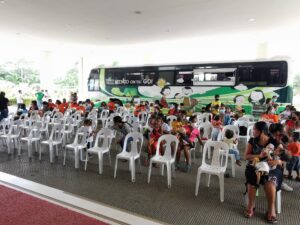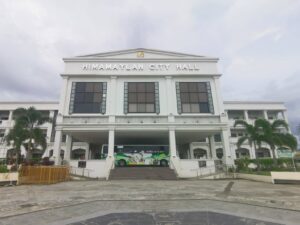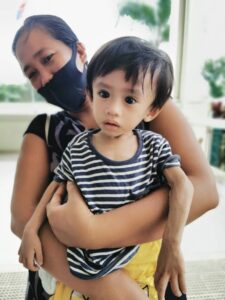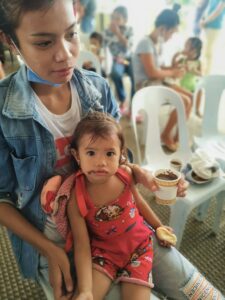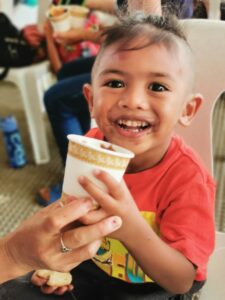 Branching Out to Panay Island
The day after kicking things off in Himamaylan, we crossed over to Iloilo for Angat Buhay's MOA signing with representatives from the Janiuay local government. 200 more children were enrolled for daily Mingo Meals under Angat Bukas: Busog, Lusog, Sigla!
And our volunteer network continues to grow! To make ensure the effectivity of the program, we must closely monitor the children. Our partners in Janiuay oriented the parents of the children in the program on how to prepare the Mingo. Field officers regularly visit the families to check on the progress of the children.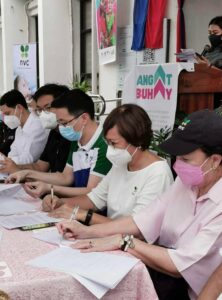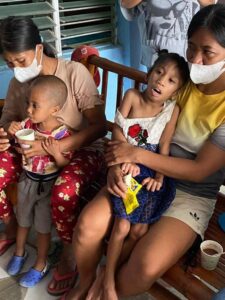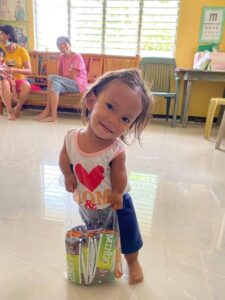 Right in Our Backyard
On September 15, we signed an MOA with Mayor Albee Benitez of Bacolod to enroll 200 malnourished children for Mingo Meals care of Angat Buhay. The program is being facilitated by volunteers calling themselves Angat Kalusugan. The team has devised clever ways to motivate the children's parents to be our active partners in the fight against malnutrion.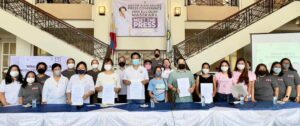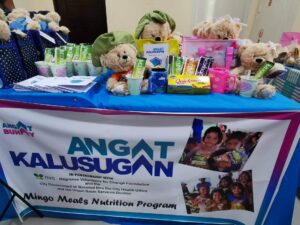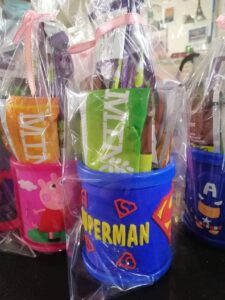 Angat Buhay Kicks-Off the Mingo Meals Nutrition Program in Eastern Samar
Eastern Samar joins the growing list of provinces that Angat Buhay has enrolled in the Mingo Meals Nutrition Program. Angat Buhay Enrolled a total of 750 children in the program. This brings the total to three provinces and Northern Samar is next on the list.
Right: Children from Jipapad, the northernmost town in Eastern Samar, are part of the first batch of children in the province to start on the Mingo Meals Nutrition Program care of Angat Buhay.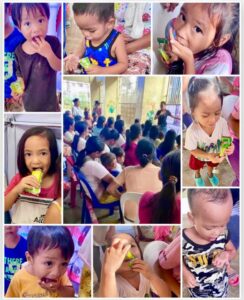 We've Only Just Begun
The program will continue to expand to other provinces. Please check this story and our Facebook page for regular updates.