LIVELIHOOD
THE PETER PROJECT
Help improve the lives of fisherfolk.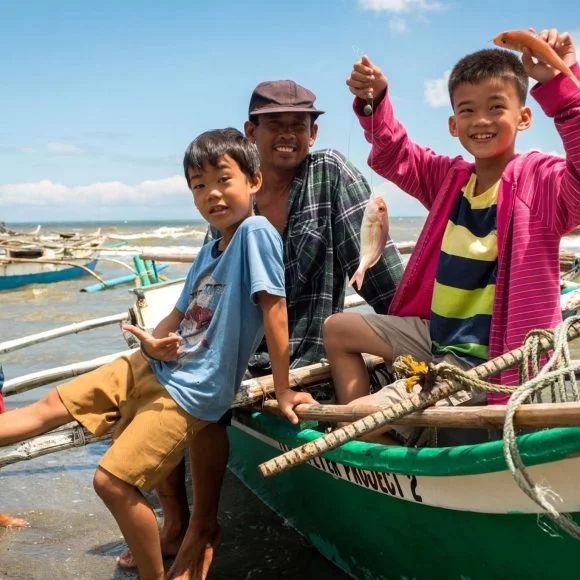 THE PETER PROJECT
The Peter Project began in early 2013. We named it after St. Peter the Apostle, who was a fisherman before he was called to be a "fisher of men." The project started as an initiative to provide motorized fishing boats to fishermen's helpers who were earning only about P50 (a little over $1.00) a day, but had the potential to earn more if they had boats of their own.
After super typhoon Haiyan devastated many parts of the Visayas on November 8, 2013, the project quickly expanded to help fishermen whose boats were destroyed by this disaster. For several typhoons after, we again reached out to fishermen in need. We would not have been able to do so without generous donations from individuals, charity groups, local governments, and corporations.
Through the Peter Project, we were able to help many fishermen reclaim their source of income. Nowadays, we no longer make boats. We have turned over the technology of making motorized fiberglass fishing boats to two of our communities. They can now make boats for others. We continue to support the fishermen in the communities near us by buying dried fish directly from them. Since we have eliminated the middleman, the fishermen earn more. They are our partners in the fight against the Covid 19 crisis. Their catch reaches far inland and is served on the tables of those supported by The Feeding Force Project.
Email [email protected] for more information about this project.
PETER PROJECT NEWS AND STORIES

YOUR DONATIONS HAVE SUPPORTED
children enrolled in our Mingo Meals nutrition program as of May 31,2021
Mingo Meals served as of May 31,2021
fisherfolk who received motorized Peter Project fishing boats as of May 31,2021
tools distributed to skilled workers as of May 31,2021
LoveBags delivered to school children as of May 31,2021
classrooms built as of May 31,2021
KEEP IN TOUCH WITH NVC
Join our mailing list to receive status reports, news, and volunteer opportunities from NVC. We keep our list private.