Project Overview
The Peter Project began in early 2013 as an initiative to provide motorized fishing boats to fishermen's helpers who were earning only about P50 (a little over $1.00) a day, but had the potential to earn more using existing skills if only they had boats of their own.
After supertyphoon Haiyan devastated many parts of the Visayas on November 8, 2013, the project quickly expanded to help fishermen whose boats were destroyed by this disaster, and later other typhoons as well.
The initiative is named after St. Peter the Apostle, who was a fisherman before he was called to be a "fisher of men."
Our goal is to allow fishermen to reclaim their source of income as soon as possible, reducing the negative impact of the disaster on their lives and that of their families and communities, through generous donations from individuals, charity groups, local governments, and corporations.
Project Details
Recipients
The Peter Project targets fishermen whose boats and sources of income were destroyed by typhoons that devastate many parts of the Philippines every year. The project also targets fishermen's helpers who already have the skills to earn a higher income if they had their own fishing vessels.
Goal
The Peter Project aims to help project participants reclaim their source of income as soon as possible, reducing the negative impact of the disaster on their lives and that of their families and communities. By allowing recipients to earn their own living and feed their families, NVC hopes to restore their dignity and allow them to view the future with hope.
Project Approach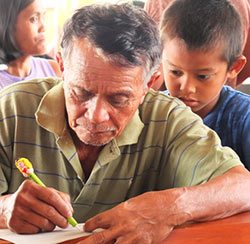 Screening: NVC carefully selects and screens project sites and target recipients in coordination with government agencies or other NGOs. NVC ensures there is no overfishing in the area, and the project site and recipients can be monitored on an ongoing basis.
What project participants receive: Each recipient receives a motorized boat. NVC encourages donors to opt for fiberglass boats so as not to deplete Philippine forest resources. Fiberglass bancas also last longer, weigh less, and are much faster than their wood counterparts. Recipients are also trained on marine conservation and their responsibilities towards the environment.
Conditions of boat transfer: Each recipient signs an agreement with NVC stating that he or she:
agrees to contribute personal labor or "sweat equity" in the manufacture of the boat. In most cases, the recipient builds the outriggers himself or herself.
understands that the boat is endorsed solely to him or her for operation and livelihood. It cannot be rented out or sold. If the recipient is incapacitated or passes away, NVC reserves the right to withdraw the boat and turn it over to someone who may have a greater economic need than the recipient's family, or the skills necessary to use the boat.
will cover all the costs of boat repair.
Accountability and Monitoring
NVC field officers or ground partners are assigned to communities or clusters of recipients to make sure that all project participants adhere to the conditions of boat transfer. In rare cases when a recipient breaks one of the boat transfer conditions, NVC confiscates the boat and turns it over to another person in its waiting list.
Donating a Boat
Individuals or groups may sponsor one or more waiting Peter Project recipients. A donation provides one wood or fiberglass boat.
Name your boat
As a donor, you have the privilege of naming the boat/s you will donate. You can do so through the special message field of the Paypal online payment form when you make your donation. In case you aren't able to provide the boat name through Paypal, send us a Facebook private message or email [email protected] with your payment details and the boat name so that we can take note of it during production.
Cost of donation
Fiberglass boat:Php 32,000
Wood boat:Php 25,000
Note: Costing is based on a minimum one truckload of 25 boats delivered to a single location. NVC will always do its best to schedule deliveries in the most cost efficient way for donors. However, should if a donor requires a boat delivery when a full truckload is not possible, additional costs may be incurred by the donor.
FAQ
How long will it take to produce the boat and deliver it to the recipient?
For cost efficiency, boats are produced and delivered in batches. It takes a minimum of 10 boats to for the production plant to begin fabrication, and 25 boats to fill a truckload for delivery. In some locations, the project participants have the capability to make wood boats, and we engage them to do so, giving them an added chance to earn. In this case, production time can take longer. We will coordinate with donors to provide a realistic production and delivery schedule based on the number of boats they donate.
Can I visit the person/s who received my donation? How do I go about it?
We can make arrangements for you to visit. Do note that there are logistical costs associated with the visit. These include: transportation (land and/or sea) for both your group as well as a representative from NVC who will accompany you, meals, and overnight accommodation if necessary. For more information, please email [email protected].
I know of fishing communities that have lost their boats to natural disasters. Can they become your recipients?
Please connect us to people or communities who have lost their boats due to typhoons or other natural disasters. Provide us the name, exact location, and contact details of the potential recipient or a representative of the community. Any new project participant or community will be subject to NVC's screening process.
Do you have other questions or concerns?
If you have any other concerns, please send us a Facebook private message or email [email protected] and we'll respond to your inquiry as quickly as possible.