Project Overview
NVC Foundation manufactures Mingo, a nutritious, instant food powder that turns into a rich porridge when mixed with water. Mingo's power ingredients?
Moringa (malunggay in Filipino)
Rice
Mung beans (mongo)
Mingo feeding program. Mingo is the staple item in our 6-month nutrition program, which provides Mingo daily to children aged 6-30 months in deprived communities, giving them much-needed nutrients for growth and development.
Mingo for disaster relief. Because of its convenience and nutritional value, Mingo has also gained popularity as emergency food in disaster relief operations and has been used to feed victims of disasters in the Philippines.
Project Details
Recipients
NVC targets undernourished infants, toddlers and young children during the highly vulnerable age of 0 to 36 months.
Mingo is also used as emergency food for evacuees and survivors of disasters, calamities, and even conflict in different parts of the Philippines.
Mingo Feeding Program Approach
NVC's 6-month Mingo feeding program provides complementary food to children aged 6–30 months in deprived communities all over the Philippines.
Program recipients in each community are carefully screened to ensure that they come from families in need, and that breastfeeding is practiced by the mothers whenever applicable.
For a period of six months, each child receives a daily 20-gram sachet of Mingo to boost his or her nutritional intake for the day. After an initial weighing during the orientation, the children are weighed every two weeks for the first three months, and once a month for the third to sixth month to monitor their development.
As opposed to other feeding programs that require children to come to a center, mothers feed their children Mingo at home, making it easier to comply with the daily feeding requirement. The results of home-based feeding tied up with maternal education are significantly better than that of a center-based feeding program. We have found that mothers may not be able, for various reasons, to bring their children to the center daily. See the results of a study between Mingo Feeding Program and a control group where feeding was done at a center.
Why Focus on Early Childhood?
Most of feeding programs undertaken by both government and nongovernment organizations in the Philippines focus on children aged of 2½ years and older, when they are already in day care or elementary school. NVC fills a gap by focusing on the nutritional support requirements of infants and toddlers.
Poor nutrition causes nearly half (45%) of deaths in children under five. This represents 3.1 million children each year.
—World Food Programme
From six months onwards, breast milk alone is no longer sufficient to meet the needs of the growing child. Nutritional deficits in babies from 6-18 months can cause stunting, poor school performance, reduced productivity and social development that will continue throughout their lives. Deficits acquired at this age are difficult to correct later in childhood.
–The World Health Organization's Report for the Global Consultation on Complementary Feeding
According to a study of British children, the quality of nutrition contributed to higher IQs in children below age 3. After this age, however, intelligence scores could not be changed with improved diets.
—Time magazine, February 21, 2011
A 2013 study on maternal and child nutrition revealed that being chronically malnourished negatively affects a child's future income. On the other hand, $1 spent to reduce stunting in a child generates about $18 in future economic returns.
—The Economic Rationale for Investing in Stunting Reduction
Mingo Production Facility
NVC fully manages the Mingo production plant in Bacolod City, Philippines. We use equipment provided by the Department of Science and Technology and other donors. Whenever you donate or order Mingo, you're also providing its staff with a source of livelihood aside from helping to feed children. Raw materials are sourced from small farmers' organizations, and their growing areas are regularly visited and monitored. Click on the images to see our Mingo production plant.
---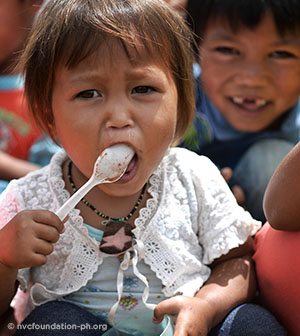 FEED A CHILD
You can sponsor one child throughout the 6-month or 12-month nutrition program and the amount covers one Mingo meal a day as well as associated logistical costs.
Cost of donation:
Php 2,500 / child for 6 months
Php 5,000 / child for 12 months
FAQ
WHAT ARE THE INGREDIENTS OF MINGO?
Mingo is made of power food that is easily accessible in the Philippines: moringga (known in Filipino as malunggay), rice, and mung beans (mongo in Filipino). It provides provides protein, fat, vitamins A, C, B1, B6, potassium, iron, calcium and zinc.
WHAT ARE THE AVAILABLE FLAVORS?
Mingo comes in natural, chocolate and calamansi flavors.
CAN WE ORDER MINGO FOR OUR OWN FEEDING PROGRAM OR RELIEF OPERATIONS?
If you wish to purchase Mingo for feeding programs or relief operations that you or your organization manage, please write us for arrangements to purchase and ship Mingo directly to you.
DO YOU HAVE OTHER QUESTIONS OR CONCERNS?
If you have any other concerns, please send us a Facebook private message or email [email protected] and we'll respond to your inquiry as quickly as possible.