Project Overview
Mingo is a nutritious instant complementary food made of rice, mongo (mung beans), and malunggay (moringa). Mingo is primarily for infants and toddlers, but is also used for older children in areas of need. We run a nutrition program using Mingo for children of impoverished families to help them build strong bodies and sharp minds.
Because of its convenience and nutritional value, Mingo has also gained popularity as emergency food in emergency relief operations and has been used to feed people in disaster or emergency situations in the Philippines.
With the Food Nutrition and Research Institute of the Philippine Department of Science and Technology as its valued partner, NVC operates a facility licensed by the Food and Drug Administration to manufacture Mingo. It comes in 20-gram individual-serving sachets or 1-kilogram packs.
Project Details
Recipients
Undernourished infants, toddlers and young children during the highly vulnerable age of 0 to 36 months
Evacuees and survivors of disasters and other emergency situations in different parts of the Philippines, as emergency relief
Mingo Meals Feeding Program
6 months, 20 grams a day. NVC's 6-month Mingo Meals feeding program provides complementary food to children aged 6–30 months in deprived communities all over the Philippines. Each child receives a daily 20-gram sachet of Mingo to boost his or her nutritional intake for the day.
Screening. Recipients are carefully screened to make sure they come from families in need, and that breastfeeding is practiced by the mothers whenever applicable.
Monitoring. After an initial weighing during the orientation, the children are weighed every two weeks for the first three months, and once a month for the third to sixth month to monitor their development.
Home based feeding. Unlike other feeding programs that require children to come to a center, mothers feed their children Mingo at home. The results of home-based feeding tied up with maternal education are significantly better than that of a center-based feeding program. Mothers may not be able, for various reasons, to bring their children to the center daily. See the results of a study between Mingo Feeding Program and a control group where feeding was done at a center.
Why Focus on Early Childhood?
Most of feeding programs in the Philippines focus on children aged of 2½ years and older, when they are already in day care or elementary school. NVC fills a gap by focusing on the nutritional support requirements of infants and toddlers.
Poor nutrition causes nearly half (45%) of deaths in children under five. This represents 3.1 million children each year.
—World Food Programme
From six months onwards, breast milk alone is no longer sufficient to meet the needs of the growing child. Nutritional deficits in babies from 6-18 months can cause stunting, poor school performance, reduced productivity and social development that will continue throughout their lives. Deficits acquired at this age are difficult to correct later in childhood.
–The World Health Organization's Report for the Global Consultation on Complementary Feeding
According to a study of British children, the quality of nutrition contributed to higher IQs in children below age 3. After this age, however, intelligence scores could not be changed with improved diets.
—Time magazine, February 21, 2011
A 2013 study on maternal and child nutrition revealed that being chronically malnourished negatively affects a child's future income. On the other hand, $1 spent to reduce stunting in a child generates about $18 in future economic returns.
—The Economic Rationale for Investing in Stunting Reduction
Mingo Production Facility
NVC fully manages the Mingo production plant in Bacolod City, Philippines. We use equipment provided by the Department of Science and Technology and other donors. Whenever you donate or order Mingo, you're also providing its staff with a source of livelihood aside from helping to feed children. Raw materials are sourced from small farmers' organizations, and their growing areas are regularly visited and monitored. Click on the images to see our Mingo production plant.
---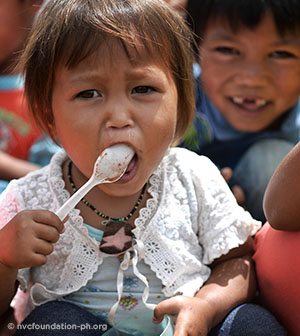 FEED A CHILD
You can sponsor one child throughout the 6-month or 12-month nutrition program and the amount covers one Mingo meal a day as well as associated logistical costs.
Cost of donation:
Php 2,500 / child for 6 months
Php 5,000 / child for 12 months
FAQ
Q. What does Mingo taste like?
A. Mingo comes in chocolate and natural flavors. Older children enjoy Mingo choco, which is flavored with natural cocoa, while babies prefer the blander natural formula.
Q. What is Mingo's nutritional content?
A. Each 20-gram sachet is about 80 calories and provides protein, fat, vitamins A, C, B1, B6, potassium, iron, calcium and zinc.
Q. How much does Mingo cost?
A. Mingo costs Php5.00 per 20-gram individual serving sachet, or about 1 US cent. For large-scale operations, 1-kilo packs are also available at Php225.00 per 1-kg.
Q. We'd like to order Mingo for our own feeding program or relief operations. How do we go about it?
A. Please send us a PM or email [email protected] to make arrangements. We accept online payment through Paypal or credit card. You may also do a bank deposit via Metrobank or BPI.
Q. Do you deliver?
A. Yes, we deliver to any major city in the Philippines via courier. The cost of shipping will depend on the weight and size of your order.
Q. Is there a minimum order?
A. We accept orders by the piece. The cost of shipping will depend on the weight and size of your order.
Q. What is the shelf life of Mingo?
A. Mingo in the new foil packaging can be stored for 1 year if unopened. The older Mingo packs last 6 months, unopened. Each Mingo sachet is stamped with the date of production.