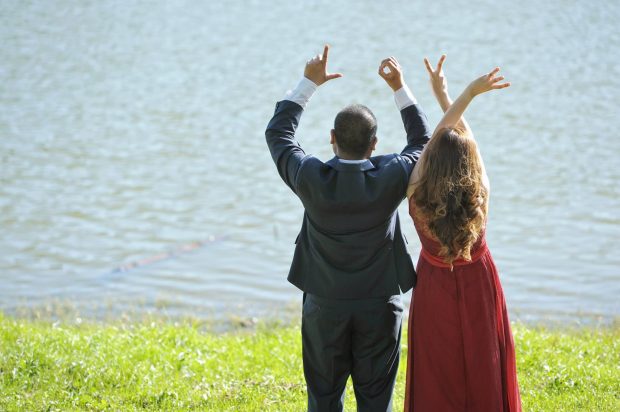 When engaged couple Cathee Daguia and Jea Amados were making plans for their August 20, 2016 wedding, they decided to do something different and special to celebrate their love for each other.
In their wedding invitations, they requested that guests make a donation to a good cause instead of bringing a wedding gift. The donations would feed undernourished children through NVC Foundation's Mingo feeding program, providing them with a nutritious daily food supplement for 6 months.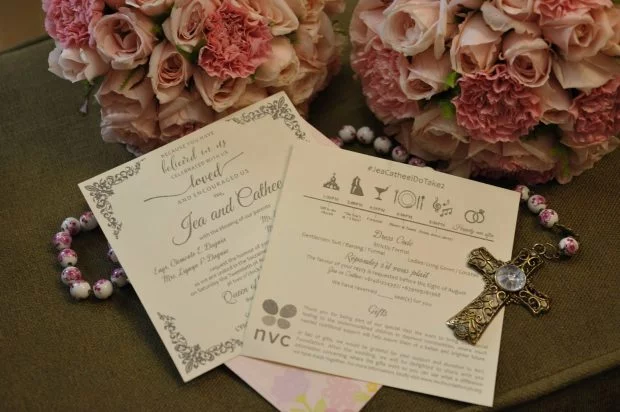 Cathee, a true-blue Negrense, started volunteering with NVC in 2010. This was right after the May 2010 elections, when she was so moved by the word "CHANGE" and the idea that even ordinary citizens could build a better Philippines.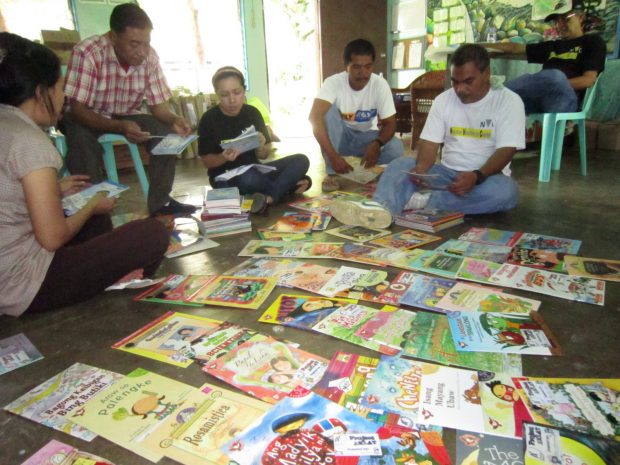 "Every project I volunteered in was always a tear-jerker," she recalls. "I will never forget the first 10 Peter Project fishermen beneficiaries in Ilog, Negros Island, and their families. How their kids would gladly shout my name every time I come to visit them. That even with so little, they were able give back the goodness by donating 24 mineral water bottles to Yolanda victims. The kids in Ilog and Kabankalan will always have a special place in my heart as well. Driving up the mountains for almost an hour to make sure that their dream of a classroom without a leaking roof will come to reality. The Simple twins who turned out to be healthy and energetic kids after 6 months of the program…" And Cathee's list of memorable experiences goes on.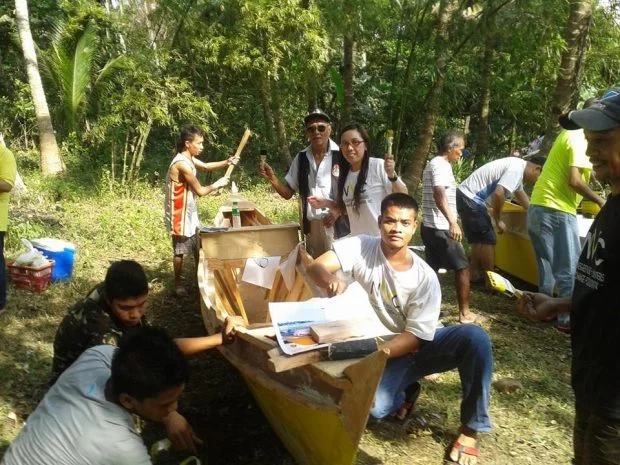 Australia-based Jea was also able to experience volunteer work first-hand. During one of the times he visited Cathee, he accompanied her to one of NVC's projects and got to see how they could make a difference in the lives of others. When his fiancee brought up the idea of donations in lieu of gifts, he was enthusiastic. "Jea saw how passionate I was about volunteerism, and he fully supported me. Another factor is that we are based abroad. So when I asked him to have a no-gift policy for the wedding, he surely agreed to it."
The couple chose Mingo meals because Cathee's experience taught her that "there are countless undernourished children who need attention.  Giving them the nutritional support during the early stage will help assure them of a better and brighter future."
They printed a simple request on their wedding invitation, made room for an NVC information table at the reception, and also asked the wedding host to mention their wish to support a good cause during the wedding program.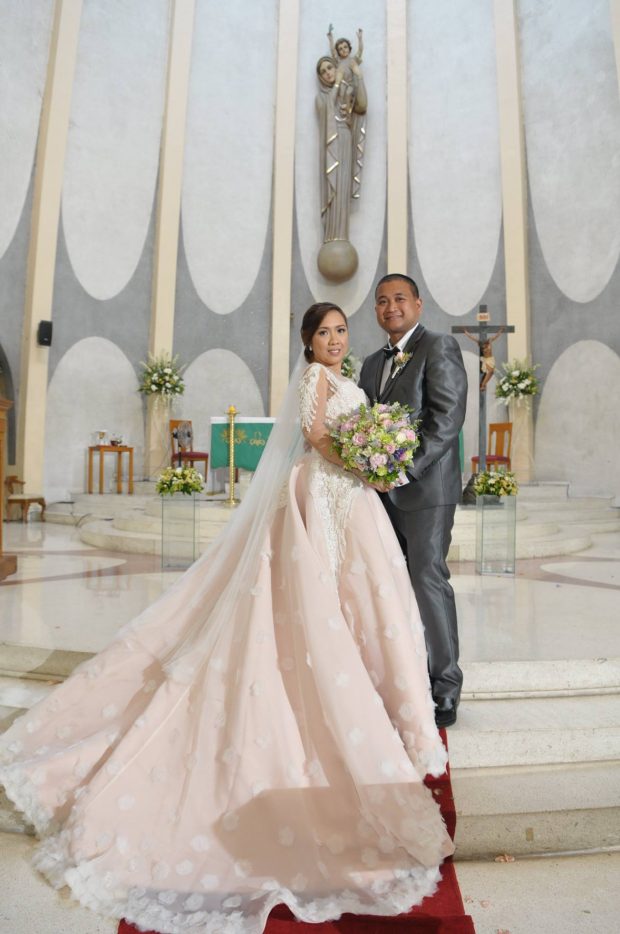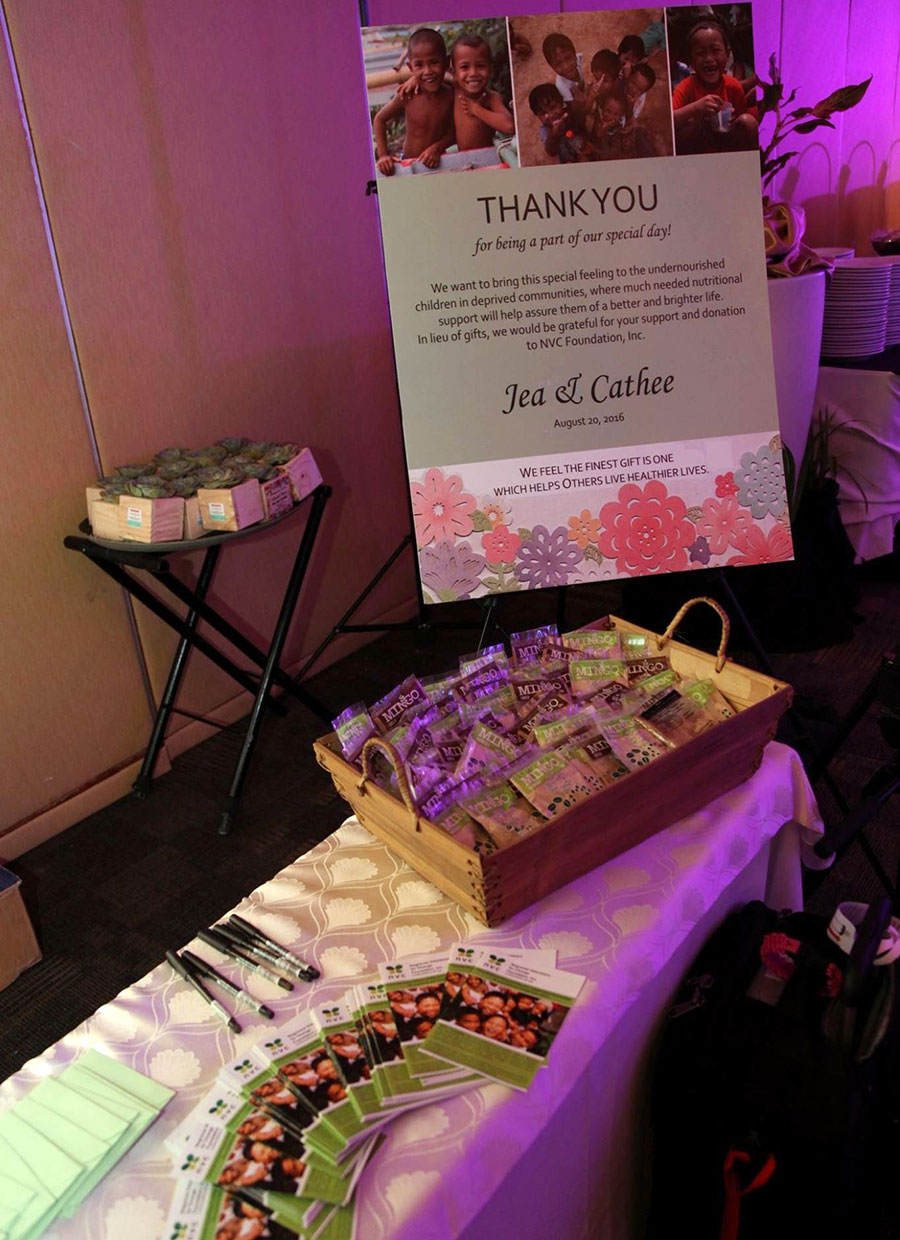 Little did they guess that their efforts would end up feeding a total of 75 children for 6 months! Cathee says she never imagined they would be able to feed that many children. "When we handed over the donation to NVC, the feeling was incomparable," she shared. "We started the new chapter of our life together with more meaning, knowing that there are 75 kids who may not know us personally but have felt the love that we share, together with the people who love us as well."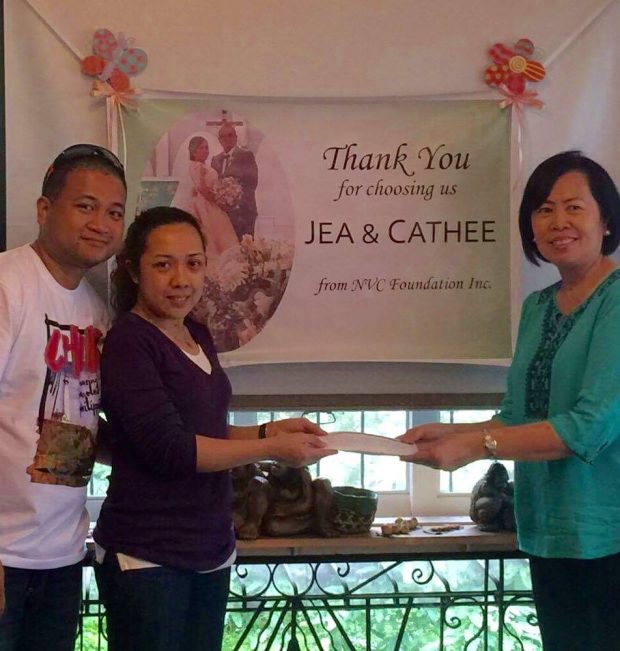 Their advice to people who want to do something similar for their wedding or other special occasions?
"As you begin your life together, the celebration will pass, you may not even remember the taste of your wedding cake that cost you a fortune, or the expensive wedding shoes you wore when you walked down the aisle. BUT doing something for a greater good will forever give meaning to your new beginning as a couple. Your wedding day will be surely as memorable as ours and will forever be remembered, it was definitely a celebration of love.   Because our guests believed in us, celebrated with us, and loved us, together we are making a difference for 75 kids in Negros."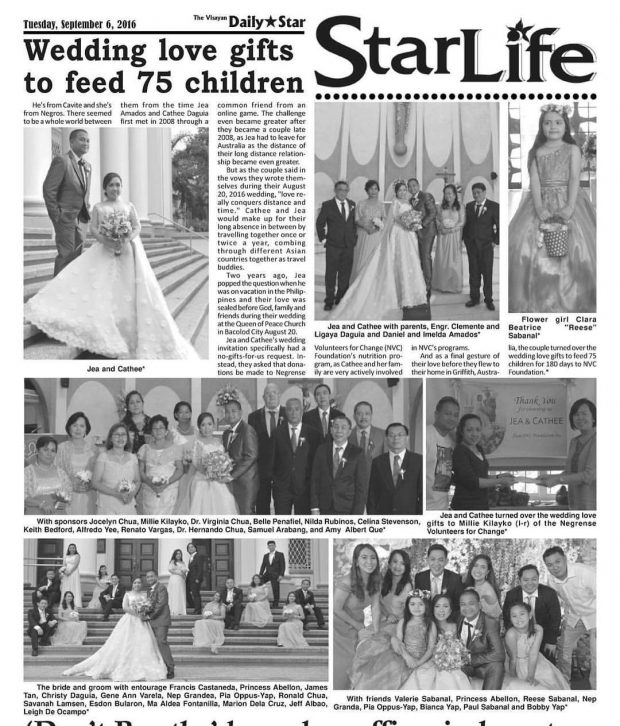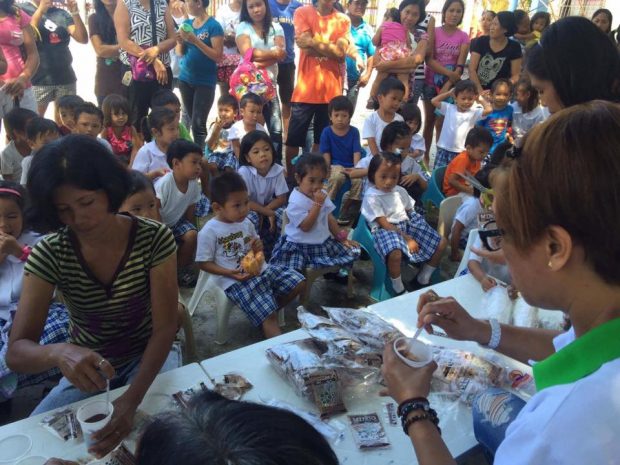 Cathee and Jea are now based in Australia, working hard while looking forward to new adventures together. Cathee says, "We continue to grow as a couple each and every day. We promised to be there for each other in our quest to be the best version of ourselves as we reach for our dreams. As our favorite hashtag goes, #lovewins."