Juan Diego Barrientos is an awesome teen whom we're proud to call an NVC Ambassador. Last summer, he spent a portion of his vacation doing volunteer work with NVC, painting Peter Project boats, visiting a Mingo feeding site, and helping out at the Mingo manufacturing plant. He climbed mountains to reach our farmers who provide us fruits and vegetables we use to feed the hungry, and he also tried his hand at mosaic with our artisans.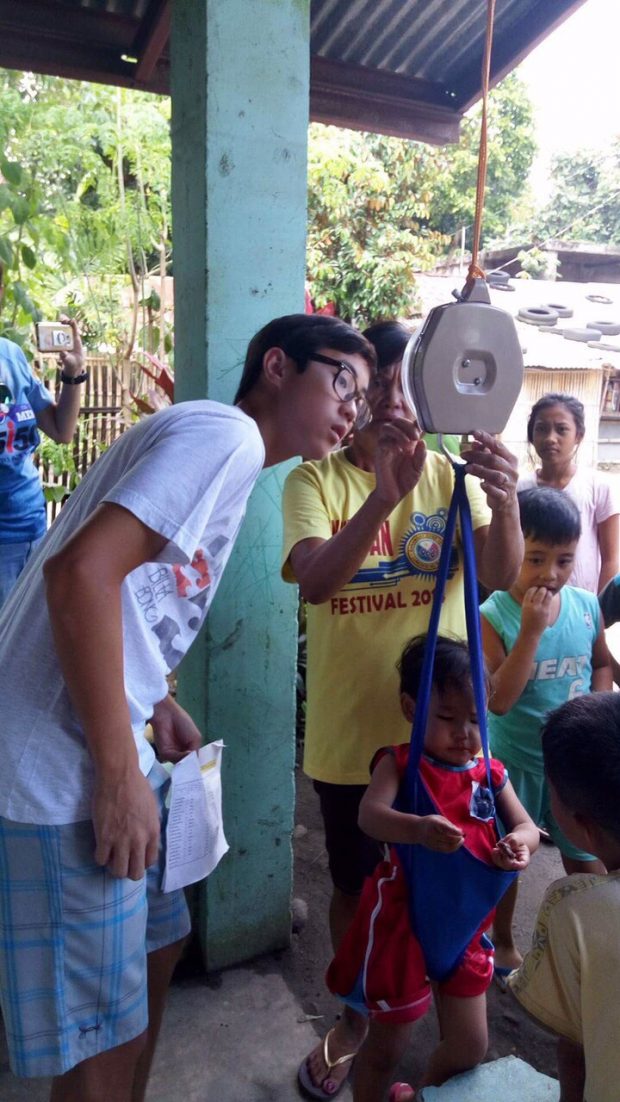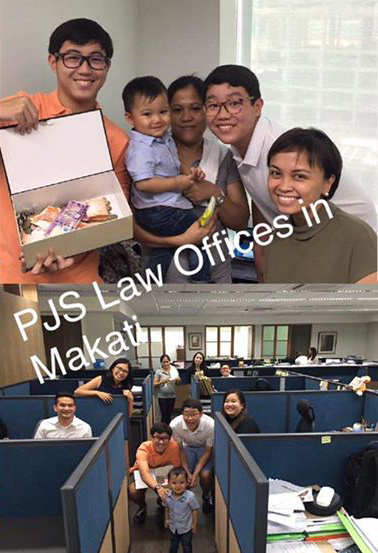 "At first, volunteering for NVC projects was at the recommendation of my mom who wanted me to participate in service work," the Manila-based city kid shares. "But after realizing service was in Bacolod, I warmed up to it. Bacolod is a place I am familiar with, so I was more comfortable. After experiencing work with NVC and after enjoying my meeting the families who are beneficiaries and how help and support has changed their lives, any NVC project I can support became more meaningful and I was always open to volunteering."
During the Marawi seige, when NVC was sending Mingo Meals to children who were forced into evacuation centers due to the violence, Diego mobilized his younger brothers, Andreo and Franco, to raise funds at the PJS Law office in Makati City, where his mom Reggie is a partner. They went from office to office, cubicle to cubicle, to spread the word about Mingo for Marawi and collect a substantial amount to send Mingo to hungry Marawi evacuees.
Early this year, Diego returned to Bacolod and this time toured his mom Reggie around the Mingo manufacturing plant, explaining to her how NVC makes these power-packed meal supplements. He happily observed that Mingo has stepped up from his last visit: it is now packed in foil instead of plastic, using a machine instead of manual labor, in an airconditioned room!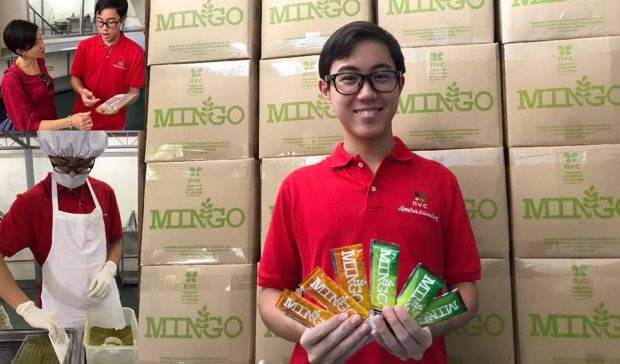 He also volunteered to collect and sort Nespresso capsules for NVC's special artisan project this coming Christmas 2018. Of course, he couldn't leave without fully experiencing what goes into the process of making our artisan products, so here he is at work on own Christmas ornament made of 135 Nespresso capsules, which his mom then bought as a keepsake. Diego waived his artisan's fee for the work he put into it.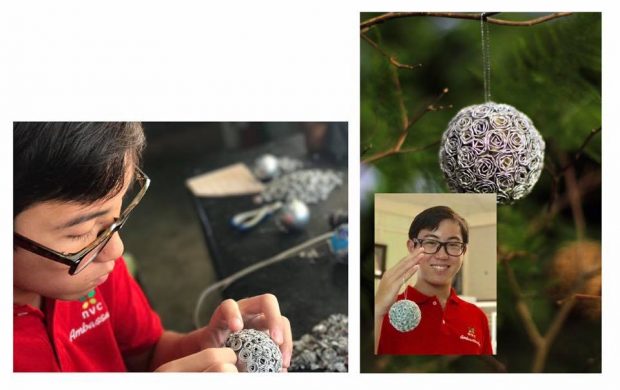 Having a thorough understanding of the Nespresso capsule upcycling project, and also knowing very well where the proceeds of each sale will go, Diego went back to Manila and made a presentation to executives at Nestle Philippines, who agreed to set up Nespresso capsule collection boxes in the company headquarters.
Diego's tips for those who want to help? "My advice to any new participant is to wear a smile on your face when helping others. Also dress simply and nothing flashy. And my mom made me say, listen always to mom."
Thank you, Diego, for your time, your efforts, and your big heart that you have so generously shared with NVC and those whom we help!